100 Women Who Care North Shore March 4, 2019 Meeting
Vancouver
Canada @ (CA)
Tel 2019-03-04
Categoria Events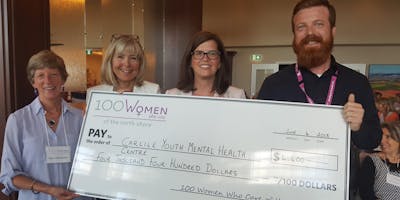 Please register by February 27th to attend our next 100 Women Who Care of the North Shore meeting on Monday, March 4, 2019. We are thrilled to see our membership growing so quickly.   Please feel free to bring a friend, but do have them register to ensure we have enough seats ... and appetizers.   Thank you to Amica Lions Gate (formerly Maison Senior Living), for sponsoring us at their location and graciously providing complimentary appetizers.  Wine and beer will be offered at a cost of $8. Cash only.  Format:  6:00 - 7:00 pm  - Hosted appetizers, cash bar drinks, networking (main level)7:00 - 8:00 pm - Meeting (second floor) Current Members: As this is the first meeting of 2019, we will be asking you to recommit your membership for 2019 if you didn't do so at the December meeting.
Please download the application form , complete it and bring it with you, along with your donations for 2019 ($100/quarter). Cheques are payable to West Vancouver Foundation (note 100 WWC on subject line), and dated for March 1, 2019, Cheques for the remaining 2019 meetings can be post-dated. New Members: If you would like to join 100 Women Who Care North Shore in advance, please complete your commitment form and bring your payments for 2019 -- $100 one-time membership fee + $100/quarter ($400 for the year).  Print the form.  Or, if you're not sure, please come and check us out -- no commitment.    Parking:Entrance to the parkade is off Keith Road, just west of Taylor Way. In the event of an overflow, we have permission to use the Onni Evelyn Presentation Centre parking across the street on Keith Road.  Whether you come for the one-hour meeting only, or for the full two hours including networking, we guarantee you'll have a great time.  Please join us.
   Questions?  Contact Mary and Naomi at 
[email protected]
  See www.100womennorthshore.com for more information.