2019 EARN Annual Conference - Conférence Annuelle de PAIRE 2019
Ottawa
Canada @ (CA)
Tel 2019-06-07
Categoria Events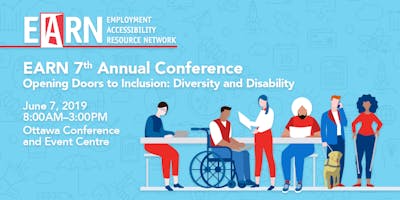 Le français de ce texte suit  You're invited to the 7th Annual EARN Conference:  Opening Doors to Inclusion: Diversity and Disability  EARN, the Employment Accessibility Resource Network, is delighted to invite you to its 7th Annual Conference on Friday, June 7th, 2019 from 8:00am-3:00pm at the Ottawa Conference & Event Centre. EARN is a United Way led, community initiative that brings together in partnership employers, service providers and other stakeholders with the goal of increasing employment opportunities for people with disabilities and promoting inclusive and accessible workplaces.   Recognizing that we all have multiple social identities (i.e. Race, class, gender, ability) and these identities intersect on many levels, we want to help you consider what systems are in place in your workplace that provide opportunities for some, and create barriers for others.
The presenters and activities will help you build a greater awareness of the ways in which privilege operates, so you will be able to understand how greater equity can be created. You will also be provided tools to support putting these ideas into action. The objective of this year's conference is to provide strategies and resources for employers to create a more inclusive workplace experience. This will ensure that you are equipped to attract and retain the best employees. Registration will begin at 8:00am with an opportunity to network until programming begins promptly at 9:00am. The conference will end at 3:00pm, a continental breakfast and lunch will be provided. Should you require accommodation for this event, please contact Saiema Zaman by May 24, 2019 at: 
[email protected]
Invitation à la 7e conférence annuelle du PAIRE, intitulée « Diversité et handicap : des stratégies en milieu de travail qui contribuent à l'inclusion » Le Partenariat en accès, informations et ressources d'emploi (PAIRE) vous invite cordialement à sa 7e conférence annuelle, qui aura lieu le vendredi 7 juin 2019, de 8 h à 15 h, à l'Ottawa Conference & Event Centre.
Le PAIRE est une initiative communautaire menée par Centraide, qui rassemble employeurs, fournisseurs de services et autres parties intéressées dans le but d'augmenter les occasions d'emploi pour les personnes handicapées et de favoriser des milieux de travail inclusifs et accessibles.   Nous reconnaissons qu'il y a plusieurs identités sociales dans la communauté (p. ex., race, classe, genre et aptitudes) et qu'elles se chevauchent à plusieurs niveaux. Par conséquent, nous voulons vous aider à examiner les systèmes en place dans votre milieu de travail; certains créent des occasions ou des obstacles aux employés. Les conférenciers et les activités vous aideront à mieux connaître les façons de perpétuer les privilèges. Ainsi, vous pourrez mieux comprendre comment accroître l'équité.
Nous vous fournirons aussi les outils pour mettre en œuvre ces idées en milieu de travail. L'objectif de la conférence cette année est d'offrir des ressources et des stratégies aux employeurs afin qu'ils puissent créer des expériences en milieu de travail plus inclusives. La conférence fera en sorte qu'ils ont les ressources nécessaires pour attirer les meilleurs employés et les maintenir en poste. L'inscription débutera à 8 h. Les invités auront l'occasion de réseauter jusqu'au début du programme, soit à 9 h pile. La conférence se terminera à 15 h. Veuillez noter qu'un déjeuner continental et un dîner seront fournis. Si vous avez besoin de mesures d'adaptation particulières pour cette activité, veuillez communiquer avec Saiema Zaman, par courriel à
[email protected]
, d'ici le 24 mai 2019.