2019 Equestrian Clinic with Darren Graziano
Saint-Lazare
Canada @ (CA)
Tel 2019-05-10
Categoria Events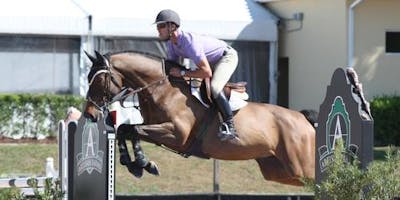 Knight Fox Company présente... Clinique Darren Graziano 2019 Nous sommes heureuses de vous présenter cette clinique équestre de haut niveau en présence d'un cavalier de renommée. Darren Graziano, sa réputation est indéniable dans le monde équestre autant dans la discipline chasse que sauteur. Propriétaire de D. G Venture inc depuis 20 ans, il a eu du succès comme cavalier, entraîneur et vendeur.  Dès un jeune âge, il a remporté plusieurs titres, son talent naturel lui a permis de participer à des concours de très haut niveau où il remporte plusieurs compétitions Grand Prix. Depuis quelques années, il entraîne des professionnels tels que Ainsley Vince et Darin Dlin qui se qualifient pour les coupes du monde. Aujourd'hui Darren réside en Floride et à New York et participe au circuit sur la côte Est des États-Unis.  Durant cet évènement, vous pourrez ÉCOUTER, OBSERVER et APPRENDRE de nouvelles pratiques d'un expert cavalier pendant deux jours consécutifs.
Cet évènement est reconnu par Cheval Québec pour les heures de perfectionnement pour les entraineurs. C'est un rendez-vous pour les cavaliers d'ici et tous ceux qui sont passionnés par cette discipline. Nous sommes convaincues que cette clinique saura vous plaire comme participant et aussi comme spectateur. Joignez-vous à nous pour ce weekend complètement ÉQUESTRE.   Nora La Compagnie Knight Fox Darren Graziano Clinic It is with great enthusiasm that The Knight Fox CO. and LA Planner present a clinic with Darren Graziano, American grand prix rider, trainer, coach and salesman. Owner of D. G Venture Inc. for 20 years, Darren is no stranger to the equestrian world and is equally present in both hunter and jumper disciplines. Darren has been succeeding from an early age, his natural talent allowing him to participate in the top level of our sport, the Grand Prix.
Add to the mix training with legends such as George Morris, Ronnie Beard, Tim Grubb and Michael Henaghan, it is not surprising that he has had several victories in the Grand Prix ring. In addition, Darren himself has coached other professionals such as Canadian Ainsley Vince and Darin Dlin, qualifying them both for the World Cup Final. Today Darren winters in West Palm Beach, Florida and competes on the East Coast of the United States in the summer. During this event, you will benefit from Darren's years of experience and hands on approach. As with all Knight Fox equestrian events, this is a spectator focused educational symposium. . WATCH. LISTEN. LEARN. RIDE During the clinic Darren will be addressing you, the sudience, and not just the riders. He will be available to answer any of your questions. This event is recognized by Cheval Québec for updating hours for coaches.
It is a must-see for all riders and all those who are passionate about their discipline.The Knight Fox CO. is confident that this clinic will be of value once again to both riders and spectators. Join us for a weekend of immersion in EQUESTRIAN sport. Nora  Weekend schedule/Horaire Friday May 10 2pm Installation de parcours/Course Build with Darren (Riders only- Cavaliers Seulement) 5pm MEET & GREET avec/with Darren- POUR TOUS -ALL WELCOME Saturday & Sunday, May 11th & 12th SPECTATORS Early Bird March 18 until April 15th, 2019 Early Bird Spectator – 1 day $30 Early Bird Spectator – 2 days $50 Regular Spectator April 16 until May 9th, 2019 Regular Spectator – 1 day $40 Regular Weekend - 2 days $60 May 11– 12, 2019 Tickets sold at the door $50 per day Darren's Meet & Greet /Just World Fundraiser - 60$ (Friday @ Auberge des Gallants) RIDERS: For details and payment email:
[email protected]