"Abandoned Manitoba" Photography Field Class - Morden Region
Morden
Canada @ (CA)
Tel 2019-05-24
Categoria Events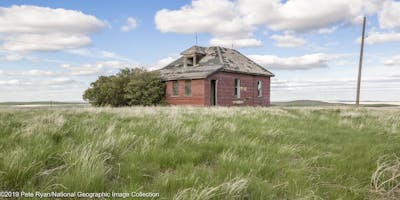 So you say you want to make great pictures. You want them to look like they came right from the pages of National Geographic. No problem. You've come to the right place.A unique opportunity, an outdoor Field Class workshop for those who want to take their photography to the next level. All skill levels welcome. We'll venture nearby to where once grand structures stood tall and proud, where these abandoned structures now lie in various decaying states of ruin. History in this sense is extraordinarily vital. It not only allows us to feel an intimate human connection with the people immediately before us but also begs us to think about where we are going next. It is here where we'll explore ways to think about various genres and cover techniques for making effective imagery.
Each location we'll visit has its own particular look, character, and ambiance. There is no substitute for making lots of pictures, and few other things are as much fun.  For this special event Field Class, I'll be joined by Gordon Goldsborough, master storyteller and popular CBC Radio host who will contribute invaluable experience while you visually explore the heritage, culture, and landscape of Abandoned Manitoba.   Now, where should you start and what should you do? The fact that you're reading this right now is your key to making the photos you've always hoped for. So congratulations. It's time to register. Rendezvous: TBD. A confirmation email will be sent to you upon registration. -------- Disclosure: * Your own transportation is required Snacks, lunch, and bottled water provided.  This Field Class runs rain or shine.
Additional info will be supplied upon registration. Participants under the age of 19 must be accompanied by their parent or legal guardian.  All Field Class events leave on-time. No refunds for late arrivals or no-shows. -------- Audit Policy: Only paid workshop participants will be admitted during the Field Class session. Waiver: As our guest, you are required to comply with our safety rules and are cautioned to heed all warnings. By accepting admission with this event ticket, you agree to release us from all responsibility for any loss, injury or damage which you may suffer, excepting any loss, injury or damage caused by our reckless, willful or grossly negligent acts. A general waiver will be presented to you for review and signing upon your arrival. REFUND POLICY: We offer a 24-hour grace period on new registrations.
If you have second thoughts about participating in your workshop within 24 hours of your registration, we shall refund your deposit less a $50 processing fee. After 24 hours, all sales are final. Should you not be able to participate in the Field Class event you must notify us by email prior to the start of the Field Class event. We do not issue refunds. To be fair, we'll issue a credit note towards another 2019 Field Class event of the same value subject to two conditions: 1. that there is availability in the (new) alternate Field Class event you select and; 2. if you are a no-show at alternate Field Class event, you will forfeit your ticket. Should the event be canceled by the Organizer due to extreme weather (i.e. severe snowstorms, bitter cold temperatures, other acts of God), a credit note of the original ticket value will be issued, to the buyer towards another Field Class in close proximity, subject to two (2) offered 2019 dates.
It is the Organizer's intent to fulfill all outstanding Field Class events by 15 Nov 2019.