Accessible Employer Showcase | Career Connections Networking Reception
Ottawa
Canada @ (CA)
Tel 2019-03-25
Categoria Events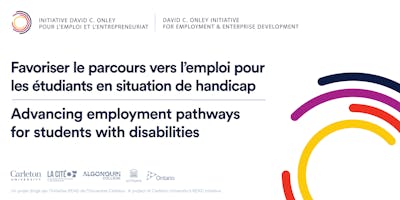 To all University of Ottawa students who identify as having a visible or non-visible disability, or those who are interested in learning more about employers who provide accessible working environments, come meet with businesses of all sizes from the region who understand and value the benefits of an inclusive and accessible workplace. Chat with representatives from organizations making an impact through a diverse and inclusive workplace.  A list of participating employers will be sent by email to all registrants attending this event.   Visit onleyinitiative.ca for more information about the David C. Onley Initiative and to learn more about the other events.   ABOUT The Event Career Connections Networking Reception | Connect with employers and explore meaningful career opportunities with organizations who understand the value of creating an inclusive and accessible workplace.
Our Networking Ambassadors will provide you with on the spot guidance and support to facilitate conversations with the employers you want to meet.  Ideas Exchange Speakers Corner | Hear from an organization committed to employing the right person for the job and learn about that success story first hand from the employee.  ACCESSIBILITY Accommodation Requirements The David C. Onley Initiative is committed to accessible events. Please identify your accommodation requirements when you register for the event. Please note that while we endeavour to address all requirements it may not be possible to fulfill all requests.  Support Persons Please ensure that you inform us if you have a support person in the "Accessibility Needs/Special Dietary Considerations" section of your registration and provide us with that person's name for on-site registration.
 Dietary Restrictions Participants will be asked to provide any dietary concerns in the registration process. Although we work closely with the venue to ensure that dietary concerns are addressed it is not always possible to fulfill all requests.  NOTE: Please note we will follow up directly about all accommodation requests by email prior to the event.  Scent Free In response to health concerns, we wish to limit the use of scented products at its events. Scented products such as hair sprays, perfume and scented deodorants may trigger reactions such as respiratory distress, headaches and more serious reactions. In consideration of others, people attending the event are asked to limit or refrain from using scented products. Your co-operation is appreciated. Consent We consider registration at our events as consent to a) receive information from us regarding the David C.
Onley Initiative and other related events and activities and b) that your photo and / or video materials with your image to your photo/video being taken and published by the David C. Onley Initiative as part of its communications materials. If this is not the case please be sure to advise us at
[email protected]