Alberta Craft Brewing Convention 2019 - Third Annual
Edmonton
Canada @ (CA)
Tel 2019-03-04
Categoria Events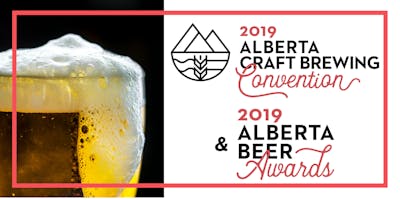 Welcome to the third annual Alberta Craft Brewing Convention. This event is for ASBA members, groups in the brewery planning process and invited industry guests only. Email
[email protected]
to inquire about attendance opportunities. Taking place in the heart of downtown Edmonton, the third installment of the Alberta Craft Brewing Convention will welcome approximately 500 people for networking, learning, and celebration.  Over three (3) days, we will present informative speakers, networking opportunities, and the chance to get up close and personal with the major players of the Alberta craft brewing industry. Monday, March 4 will feature a pre-convention workshop aimed at helping breweries to improve their tourism offerings. Later that evening we will host a networking event across various local breweries, transportation will be made available.
Tuesday, March 5 will be kicked off with a pre-convention workshop tailored towards breweries-in-planning. This will be followed by an Edmonton Tour (more information to come shortly). That evening Olds College Brewery Students will show off their wares at a tasting salon followed immediately by the official Alberta Craft Brewing Convention kick off—the Welcome Reception and Trade Show Scavenger Hunt. This portion will be filled with networking opportunities and craft beverages. At the full-day conference on Wednesday, March 6, we will discuss marketing and business, quality and technical issues, as well as collaborative initiatives through speakers, panels and concurrent breakout sessions. The theme for this year's speakers will be "quality and consistency." Finally, we wrap it all up with a night of celebration at the second annual Alberta Beer Awards on Wednesday, March 6 at the Starlite Room in downtown Edmonton.
Join us and participate in shaping the future of craft in this province. Hotel Block $169/night convention rate available until February 4th at The Westin Edmonton (10135 100 Street, Edmonton, AB, T5J 0N7). Click here to book your group rate for The Alberta Craft Brewing Convention The rate of $169.00 per night plus applicable taxes is for single and double occupancy rooms. Note that rooms with more than double occupancy may be charged a higher rate. Exhibitor Opportunities Exhibitor Fee ($1,200) includes: 1 – Alberta Craft Brewing Convention registration*1 – 10x10 boothDraped booth – 8' back wall, 3' side walls2 – padded chairs1 – 6' skirted tableFree wifi*Rate for additional registrations is $150 if booked by January 31. We are contacting companies that exhibited at ACBC 2018 first, then working through the list of applications for 2019.
Click here to apply to exhibit at ACBC 2019  Sponsorship Opportunities Please contact Lauren Reid at
[email protected]
for sponsorship opportunities. A prime exhibitor booth location included with convention sponsorships (dependent on sponsorship level). First right of refusal goes to ACBC 2018 sponsors. Agenda Overview & Ticket Rate* *Agenda is in progress and subject to change.**Some ticket costs are not included in the ACBC ticket. See individual event description for additional prices. Monday, March 4Tourism Workshop ($55)**9:00 a.m.–4:00 p.m. – Location TBDA full-day session focused on helping breweries increase the tourism experience offered at their brewery. Networking Evening6:00 p.m.–11:00 p.m. – At breweries around Edmonton – details TBD Tuesday, March 5New Breweries Workshop ($100)**8:00 a.m.–11:30 a.m.
– Edmonton Convention Centre ASBA AGM (members only)11:30 a.m.–1:30 p.m. – Edmonton Convention Centre Tour (more information to come)1:30 p.m.–5:00 p.m. – TBD Olds College Student Beer Tasting Salon4:00 p.m.–6:00 p.m. –  Edmonton Conference Centre Alberta Craft Brewing Convention Kick-OffWelcome Reception & Trade Show Scavenger Hunt (Included in full convention ticket)6:00 p.m.–12:00 a.m. – Edmonton Conference CentreVisit 90 trade show booths & enjoy beers from across Alberta. Wednesday, March 6Alberta Craft Brewing Convention8:00 a.m.– 5:00 p.m. – Edmonton Conference Centre *If you are an ASBA full member or industry associate and have not received your discount code OR if you would like to become a member please contact 
[email protected]
Ticket includes access to all meals, keynotes, sessions and panels and trade show floor. Alberta Beer Awards ($50)**6:00 p.m.–12:00 a.m. – Starlite RoomIncludes 5-4oz drink tickets600 people at The Starlite Room celebrating the best of Alberta Beer. Alberta Beer T-Shirt – $25**Get you Alberta Beer T-shirt in the order section. We have both men and ladies shirts.