Barry Lopez in Conversation with Wade Davis
Vancouver
Canada @ (CA)
Tel 2019-03-25
Categoria Events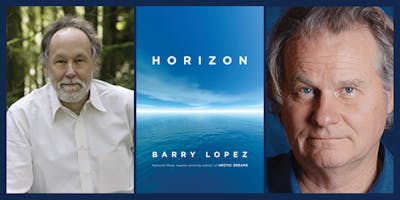 We are aware of the precarious risk to our environment—and our species—as never before. How do we move forward? Barry Lopez looks straight in the face of threats to earth and the human race to offer a fundamentally hopeful message. In Horizon, the National Book Award-winner, humanitarian and environmentalist shares eight decades of wilderness exploration that have shaped his bold perspective on our relationship to nature. As science writer David Quamman explains, "The world is vast, and so are the heart and the curiosity of Barry Lopez. His voice is incomparable and necessary. No one else alive, to my knowledge, thinks so carefully about the moral dimensions of landscape." Join us as Lopez discusses this vision, Horizon and more in conversation with explorer, anthropologist and author, Wade Davis.
Monday March 25th, 7:30pm Granville Island Stage - 1585 Johnston Street Regular $25 (plus service charges and GST) / Youth Under 30 $15 (plus service charges and GST) Barry Lopez is the author of numerous works of nonfiction and fiction, among them Arctic Dreams, for which he received the National Book Award; Of Wolves and Men, a National Book Award finalist; two collections of essays; several story collections; and Crown and Weasel, a novella-length fable. He contributes regularly to both American and international journals and magazines and has travelled to more than 70 countries to conduct research. He is the recipient of fellowships from the Guggenheim, Lannan and National Science foundations and has been honoured by a number of institutions for his literary, humanitarian and environmental work.
He lives in Oregon. Wade Davis is Professor of Anthropology and the BC Leadership Chair in Cultures and Ecosystems at Risk at the University of British Columbia. Between 1999 and 2013 he served as Explorer-in-Residence at the National Geographic Society and is currently a member of the NGS Explorers Council and Honorary Vice-President of the Royal Canadian Geographical Society. Davis is the author of nineteen books, including One River, The Wayfinders, The Sacred Headwaters, Into the Silence and River Notes. His photographs have been widely exhibited and have appeared in thirty books and a hundred magazines, including National Geographic, Time, Geo, People, Men's Journal and Outside. His recent book Into the Silence received the 2012 Samuel Johnson Prize, the top award for literary non-fiction in the English language.
In 2016 he was made a Member of the Order of Canada.