BC FireSmart - Homeowner's FireSmart Assessment Training
Chilliwack
Canada @ (CA)
Tel 2020-05-09
Categoria Events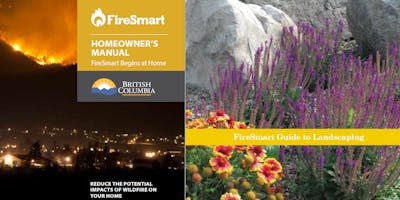 Course Overview: Living where wildfires can occur may put your home at risk, but it's possible to reduce the potential impacts on your home from these natural events.  The recommendations in this course will help reduce the risk of wildfire near your home and neighbourhood and provide a better opportunity for firefighters to defend your home.  Upon completion of this course, the participant will gain a basic knowledge of the FireSmart program and how each homeowner can make their property and neighbourhood FireSmart.  Successful participants will have the ability to complete a FireSmart Assessment test on their own home and property. Payment Instructions: You must pay by credit card to register online. All fees are charged in Canadian Dollars. Credit cards are charged at the time of registration.
Price includes a FireSmart Homeowner's Manual and a FireSmart Canada Guide to Landscaping. Schedule: May 9th: 9:00 am - 12:00 noon; location: Tzeachten Community Centre Boardroom, 45855 Promontory Road, Chilliwack, B.C., V2R 0H3. What to Bring: Writing utensil(s) Instructor: Murray W. Smith, R.P.F. is a Registered Professional Forester with the Association of British Columbia Forest Professionals and a graduate of the University of British Columbia with the degree of Bachelor of Science in Forestry.  He is also a graduate of The College of New Caledonia with an Associate Degree in Sciences and an Associate of Science Diploma.  He is a British Columbia FireSmart Local Representative, as well as a British Columbia Wildfire Service-endorsed S100 Basic Fire Suppression and Safety / S100A Annual Fire Safety Refresher instructor.
Murray has over 20 years of professional forestry experience including harvesting, planning, log purchasing, and silviculture operations in a multi-disciplinary environment. His harvesting experience includes supervision of road and bridge construction, maintenance, and deactivation, as well as logging and trucking operations. For more information contact us at
[email protected]
or (604) 858-6304. Cancellation/Refund Policy: Registration is limited to 12 people. Cancellations will be assessed a 10% processing fee. A minimum number of registrations must be received 72 hours before the course date.  If sufficient registration is not met by this date, the course may be cancelled. If a course is cancelled due to low enrollment or other unforeseen circumstances, all registrants will automatically be issued a full refund (100%) in the manner of original payment.