BizMtl Business Networking Dinner Event for Entrepreneurs - ask for free invitation
Montreal
Canada @ (CA)
Tel 2019-02-12
Categoria Events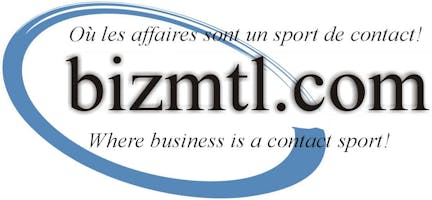 Bringing busines people together since 2002  Second chance to increase business in 2019. Relationships >>> Business opportunitiesBring an associate - Visitors WantedCost of event is Free*Now beginning our 18th Year  of bringing business people like you together... Made for Entrepreneurs. Take the plunge. Experience BizMtl's 365th Networking eventTUESDAY,  February 12th, 20185:30PM to 8:30PM E-Z Request for Invitationand OPT IN to e-mails from BizMtlA SIMPLE CLICK HERE Come to see why we have had 364 productive events so far. Avoid any delay... Get in early Your chance to come on down toprofitable gatherings of members and guestsBring a business friend, partner, associateIncrease your Business ContactsBIZMTL COCKTAILS & DINNERNETWORKING EVENTis all about people.
These are 3 hour Dinner events... *Cost: Admission is FREE as a first time guestYou pay the Restaurant directly for your food and beverage consumption.IMPORTANT -> for available classifications** only   PLEASE REPLY by Friday, February 8th, 2018 Electrician, General Contractor, Translation, Printer, Web Site designer, HVAC, Electrician, Plumber Graphic Designer Classifications now Available Check us out at www.bizmtl.com Be sure to add
[email protected]
as a friend in your e-mail program. Your confirmation will be made from that address Guests Very WelcomePromote your BusinessIf your type of service/product is not already represented in BizMtlExpand your circle of contacts to boost your business opportunities. Schmooze with new business people. Get Connected.
Book the DateWho will you meet? Many new members and guests.Join the wave.See why you should join the BizMtl familyNot for MLM or Network Marketing businesses FREE INSIDE UNDERGROUND PARKINGCan you miss the chance to make new business contacts?Schmooze with like-minded business people for 3 hours.Deliver your sales pitch to business people… BizMtl members can be your best sales team. Presenters are BizMtl Members For Members and Invited Guests Space is limited so please invite your guests and reserve your places. So gain exposure,  build connections and develop those new relationships and opportunities. *Cost: Event is FREE. You pay the Restaurant directly for your food and beverage consumption.**This event is open to vocations of businesses which are not represented by present BizMtl members.
Check the www.bizmtl.com site for available classifications.You will receive an invitation if there is not a BizMtl member who offers your products or services