Boost your Speaking and Storytelling Skills!
Ottawa
Canada @ (CA)
Tel 2019-03-06
Categoria Events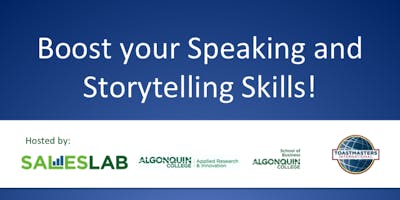 When: Wednesday, March 6th, 5:30pm to 6:30pm  Where: Algonquin College, Building A Room158X Format of Event:  PART 1 Local Toastmasters will take you through 1) an informative speech – about Toastmasters 2) fun impromptu speaking – participate or just observe. 3) an evaluation segment – the key to improvement PART 2 Your questions and interest in starting a Toastmasters curriculum at Algonquin College More details about what you will be able to  learn .   1) Prepared speeches — In this first segment, Toastmasters give speeches (usually 5-7 minutes) they have prepared ahead of time using the online curriculum provided by Toastmasters International. Speakers often get to choose which topics to talk about. The first four speeches in a Toastmaster's journey include i) a 4-6 minute icebreaker speech (where a person introduces himself or herself to the group - the point is to get up in front of a group and speak.
), ii) a 5-7 minute speech on any topic, iii) a repeat of the second speech, integrating feedback received the first time it was given, iv) a 5-7 minute speech that involves some research. 2) Impromptu speaking — This tends to be a fun part of a Toastmasters meeting, as there is no preparation involved and there is an element of surprise when a question is given on the spot — and when a question is answered. To give everyone in attendance a chance to speak at the meeting, participants without meeting roles or speaking roles are the first to speak extemporaneously. Their task is to speak for 1-2 minutes on a topic given right there and then by someone we call a Topicsmaster. They do not have to tell the truth… But they need to answer the question using a clear structure and practicing all their presentation skills.
Not unlike answering a question in class or during an interview. 3) Evaluation segment — The essence of Toastmasters is to offer an opportunity to practice and get better at public speaking. What better way to improve than to receive good, actionable feedback on (a) what we did well and (b) on 2-3 specific things we could have said or done to present better? The evaluation segment covers all prepared and impromptu speaking roles, but also all other meeting roles, including the emceeing. The point? Learn how to do it better the next time.