Brooklyn Nine-Nine Trivia 2.1 (first night)
Toronto
Canada @ (CA)
Tel 2019-02-05
Categoria Events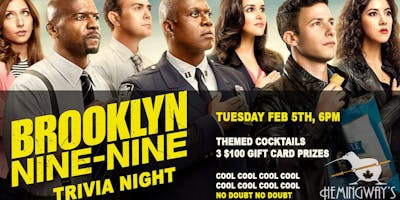 Get excited for the return of BROOKLYN NINE-NINE, with 2.1 Trivia. This is the first night of this question set. TRIVIA DETAILS:  - Doors opens at 6PM. Come in for dinner and Brooklyn Nine-Nine themed drinks- 3 rounds, about 15 questions each- First question is at 7:00pm SHARP- Top 3 teams win a $100 Hem's gift card HOW TO REGISTER YOUR TEAM: - Tickets are $8.50 per player- Follow the prompts to register your team on eventbrite- One team member will create the team name and a team password. Everyone else will join the team by using that team name and password. - Minimum of 2 players and max of 6 players per team Due to high demand of tickets, REFUNDS are available, so please process the refund up to 48 hours before to let someone else buy those tickets. Our staff have selected 10 charities from the Toronto area to benefit with the proceeds of our Trivia nights.




25% of all ticket sales will be donated to the charity selected by the winning group. As we have found great success putting on these fun events, we would like to give back to some deserving local charities in our community. IMPORTANT NOTE: Due to popular demand, we run many of our themed trivia events on multiple nights. This is communicated to our fans by using a version number for each unique set of questions. For example, Brooklyn Nine-Nine 2.1, 2.2, and 2.3 are three different events of the same version and therefore have duplicate questions. To ensure your enjoyment, and the enjoyment of all trivia fans attending an event, please do not attend two different nights of the same version of a trivia theme. If you had enjoyed yourself at one of our trivia nights, and would like to come again, you are invited to attend a different theme, or wait for the release of the next version of the same theme (e.g.


Brooklyn Nine-Nine 3.1, 3.2, 3.3). Please follow us on Facebook here to be the first to hear about our future nights Don't forget to #HEMSTRIVIA and follow @hemingways.to on insta. Looking forward to seeing you at our upcoming trivias.