Can False Creek South Remain a Model Community in a Changing World?
Vancouver
Canada @ (CA)
Tel 2019-04-04
Categoria Events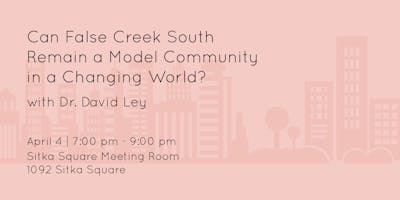 City Council created False Creek South in the spirit of 1970s liberal ideology as an innovative built environment, for a mix of incomes and households. This talk will highlight the distinctive features of the False Creek South community. Its distinctiveness is emphasized in contrast to the very different post-Expo development on the north shore, characteristic of the current era of globalisation. To what extent can False Creek South's innovative characteristics be retained and extended in the context of the Global Capital/Eco-density world of the present?  About Dr. David Ley Dr. David Ley is an Emeritus Professor of urban and social geography at UBC. He has studied housing and neighbourhood issues in Vancouver and other Canadian cities in a national and global context.
Following earlier publications on gentrification, a more recent book, Millionaire Migrants,examined the experience and impacts of wealthy families moving between East Asia and Vancouver. His current research project is entitled Housing Bubbles in Gateway Cities. Accessibility This space is accessible to people with mobility aids via the building's east entrance. Please contact Wendee at 604.785.7004 if you have any difficulty locating the entrance. Public parking is available to the west side of the building. The False Creek South Neighbourhood Association encourages attendees use low carbon methods of transportation to travel to the event if possible and bike racks are available near the east entrance. The space is accessible via the #50 bus.  The False Creek South Neighbourhood Association would like to acknowledge that the City of Vancouver is located on the traditional, ancestral, and unceded territory of the Musqueam, Squamish and Tsleil-Waututh people.