Clan Rugby Corn Maze tour
Edmonton
Canada @ (CA)
Tel 2019-09-15
Categoria Events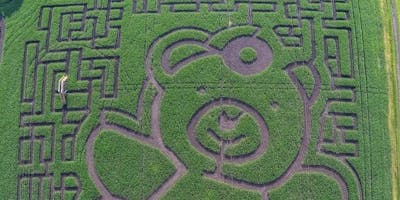 Notice. The event has been postponed and we will confirm the new date shortly. Sorry. Ready to get lost? The Clansmen Rugby Club is leaving the city behind, and headed out into the country for some good ole' fashioned corn maze fun.   Each year, the Edmonton Corn Maze creates new themes designed to get thousands of visitors lost. From the air, the maze looks like a beautiful artistic pattern. On the ground it tests your sense of adventure (and direction). Expect 5 km of twists and turns and 85 decision points. A series of clue cards offer guidance along the way, with questions rated for all ages. There's even a text challenge and downloadable app to keep teens on their toes (and phones). Other fun activities: Farmers Market, the pedal carts, the jumping pillows, and various games in the yard.
You can also try out the potato cannon, the tractor train ride or feed the farm animals. Ticket price includes lunch, admission fee, and roundtrip transportation to and from the Edmonton Corn Maze. *Please let Kim Lo (
[email protected]
) know if you have any dietary restrictions* Event Itinerary: 11:00 AM - BBQ lunch served at the Clansmen Rugby Club 1:30 PM - Shuttle out to the Edmonton Corn Maze 2:00 PM - Wholesome family fun at the Corn Maze 4:00 PM - Shuttle back to the Clansmen Rugby Club This is an all-ages event, so feel free to bring you friends and family along for this Sunday Funday.