Community and Connection Symposium
Ottawa
Canada @ (CA)
Tel 2019-03-30
Categoria Events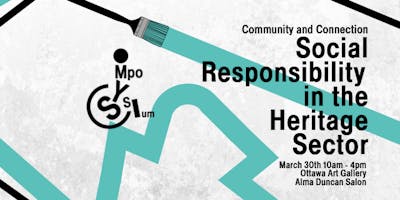 LAND ACKNOWLEDGEMENT The Carleton Art History Undergraduate Society (CAHUS) would like to acknowledge that our work, as well this event will take place on the un-ceded and un-surrendered territory of the Algonquin nation. EVENT The Carleton Art History Undergraduate Society invites you to attend "Community and Connection: Social responsibility in the heritage sector," a symposium on the topic of accessibility and inclusion in museums and galleries. Museums and galleries play a meaningful social role in portraying historical and cultural narratives. However, the stories told and voices heard have been, to a great degree, limited to the status quo. If we are to create an environment that welcomes the breadth and diversity of our communities, we must redefine how we think about historical narratives and who gets to create them.
How do those working in the heritage sector approach questions of access, diversity, and inclusion in their work? *While the discussion will be focused around disability and the arts, we will also be exploring and addressing the intersections between ableism, colonialism and race.* The event will take place at Ottawa Art Gallery (OAG) from 10:00 – 4:00 p.m. on Saturday, 30 March. Admission is free and everyone is welcome. Light refreshments will be provided. You may register through Eventbrite, via email or telephone. To register via telephone or email, please contact Natalie at
[email protected]
or call at 613-297-1550. PROGRAM OUTLINE Session 1 - Keynote Networking Break Session 2 - Moderated Discussion on Spaces: Issues in Practice *Lunch Break Session 3 - Moderated Discussion on Inclusivity in the Narrative: Artistic Practices and Access to Display Networking Break Session 4 - Demonstration *Note: Lunch will not be provided, but there are restaurants within a 1 minute walking distance from the Ottawa Art Gallery (OAG), as well as the Jackson Cafe located on the ground level of the OAG.
KEYNOTE A keynote will be provided by Dr. Eliza Chandler. Eliza Chandler, an Assistant Professor at the School of Disability Studies at Ryerson University, aims to bring together the arts, disability studies, and justice-based activism. She teaches courses on disability arts and culture, disability rights and justice, and community-based social activism; she is the co-director of the project Bodies in Translation: Activist Art, Technology, and Access to Life, a many-partnered grant supports the development of activist art (including Deaf & disability art, fat art, and Indigenous art) and interrogates its connection to the enactment of social justice. Chandler is a practicing curator, a board member of the Ontario Arts Council, and the co-founder of Creative Users Projects, a community arts/activist initiative that supports crip artists through artistic development and works to create a more accessible arts culture.
Prior to these roles, she was the founding artistic director of Tangled Art Gallery, a gallery in Toronto that showcases disability arts and advances accessible curatorial practices. Chandler regularly give lectures, interviews, and consultations related to disability arts, inclusive curatorial practices, and disability politics in Canada.   FEATURED SPEAKERS Patricia Bérubé, PhD Cultural Mediations, Institute for Comparitive Studies in Literature, Art and Culture at Carleton University Adrian Chan, Director of Research and Education in Accesibility, Design and Innovation (READi) at Carleton University  Greg "Mista Wasis" Dreaver, Artist, Traditional Pow Wow Dancer, Arena Director and MC Rachel Gray, Artist, and Artistic Coordinator at BEING Studio and artist-in-residence at Ottawa School of Art Jamie Morse, Artist, Founder of Indigenous Walks and Educator, Indigenous Programs and Outreach at the National Gallery of Canada (NGC) Stephanie Nadeau, Head of Public, Educational and Community Programs at the Ottawa Art Gallery (OAG) Michael Orsini, Professor in the School of Political Studies at the University of Ottawa, co-editor (with Christine Kelly) of Mobilizing Metaphor: Art, Culture and Disability Activism in Canada Debbie Ratcliffe, Artist at BEING studio Gabrielle Trepanier, Audit and Evaluation Officer, Museum of Science and Technology Liz Winkelaar, Artistic Associate, Company Dancer and Teacher at Propeller Dance Jocelyn van Wynsberghe, Artist, Student Support Officer / Volunteer Coordinator, Paul Menton Centre at Carleton University ACCESS The Ottawa Art Gallery is committed to providing a barrier-free environment.
Admission is free and all are welcome. All entrances, galleries and venues are fully accessible. Please note: accessible drop off location for Para Transpo is 10 Daly Avenue. Gender neutral washrooms.   ACCESSIBLE DIRECTIONS Para Transpo drop-off entrance: 10 Daly Avenue, Ottawa, ON, K1N 6E2. The Daly entrance is between Waller and Nicholas on the south side. The gallery's large glass double doors are recessed from the street. The building's banners have hot pink. 50 Mackenzie King Bridge entrance: For those taking OC Transpo, get off at Mackenzie King Bridge, walk east towards Ottawa U. The gallery is on the same side of the street as the Rideau Centre mall, at the northwest corner of Mackenzie King and Waller. The gallery's entrance is recessed from the street with an LED sign out front.
Drop-offs and pickups at the Daly entrance ONLY. Please notify us by email if you require a sighted guide to meet you. Indicate the entrance you prefer, the date and time of your arrival by email to
[email protected]
  PARKING Street metered parking is available (check hourly limits) in the nearby Sandy Hill residential area. Other paid parking options include: Novotel parkadeEntrance: 3 Daly AvenueOttawa, ON K1N 9M7 Rideau Centre parkadeEntrance: 80 Nicholas Street or 5 Daly AvenueOttawa, ON K1N 9J7 BICYCLE PARKING Bicycle racks are located near the gallery's main entrance at 50 Mackenzie King Bridge. DISABILITY-RELATED ACCOMMODATIONS ASL interpretation will be provided. Should you have any other disability-related requirements, please contact Natalie by 13 March at
[email protected]
or call at 613-297-1550. SPONSORS This event is generously supported by Carleton Disability Awareness Centre, Carleton University Art Gallery, Carleton University Student Association, Ottawa Art Gallery, Paul Menton Centre, READ Initiative, School for Studies in Art and Culture. We look forward to seeing you.