DevOps Exam Prep Course in Fredericton, NB
Fredericton
Canada @ (CA)
Tel 2019-11-19
Categoria Events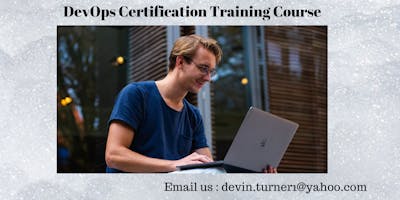 DevOps is a set of software development practices that combine software development (Dev) and information technology operations (Ops) to shorten the systems development life cycle while delivering features, fixes, and updates frequently in close alignment with business objectives. It is a set of practices that automates the processes between software development and IT teams, in order that they can build, test, and release software faster and more reliably 4 day of Classroom training: Accredited Courseware with chapter-end quizzes Globally Accepted Certification Sample Papers & Mock Exam 2 full-length simulation tests Course Completion Certificate Complimentary E-learning for all participants 24x7 Customer Support 100% Money Back Guarantee 3 Months Online Exam Simulator For Exam Preparation Real Life Case Studies And Examples We assure that, all our training classes are confirmed to run with no cancellations and no rescheduling.
You can confidently make your training plans with our confirmed classes. If you have any queries regarding course our DevOps certification training, please feel free to reach me to
[email protected]
Course Overview 4days DevOps Exam Prep Training Course will help you to get in-depth knowledge of collaboration, integration and automation in order to improve the flow of work between software developers and IT operations professionals. Improved workflows will result in an improved ability to design, develop, deploy and operate software and services faster. DevOps Foundation Certification Course Objective The learning objectives for DevOps Foundation include an understanding of: DevOps objectives and vocabulary Benefits to the business Concepts and practices — including its relationship to Agile, Lean and IT Service Management (ITSM) Improved workflows Sixteen (16) hours of instructor-led training and exercise facilitation Improved communication and feedback loops Applying DevOps in an enterprise environment Critical success factors and key performance indicators Real-life examples and results DevOps Training Course / Student Materials DevOps – The Basics (pre-class resource) Learner Manual (excellent post-class reference) Participation in unique exercises designed to apply concepts Sample documents, templates, tools and techniques DevOps Certification Exam Pattern: Successfully passing (65%) the 60 minute exam, consisting of 40 multiple-choice questions, leads to the DevOps Foundation Certificate.
The certification is governed, administered and maintained by the DevOps Institute. The DevOps Foundation Certificate will be the pre-requisite for future DevOps certification courses. Our other certifications: CAPM | PMP | LSSGB | LSSBB|LSSGB & LSSBB | ITIL | PMI ACP | CBAP | CCBA Please let me know if you have any queries, I would happy to help you. Regards, Devin Turner Email:
[email protected]