Digital Democracy 101: Understanding the Attention Economy's Effect on Canada's Democracy (Vancouver)
Vancouver
Canada @ (CA)
Tel 2019-03-04
Categoria Events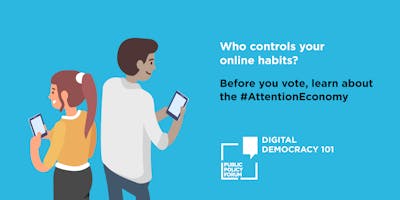 Before you vote, learn about the attention economy Discover the unseen forces on digital platforms that can affect what information you see – and what you don't - in this free lecture by Carl Miller, Research Director at Demos. He'll explain how the 'attention economy' can harm democracy. The competition for our time and attention by digital platforms, which can often skew what we see and from whom, may leave us without the trusted information we need to make a confident decision in an election. This is one of three free public lectures hosted by the Public Policy Forum and its partners that explain how our democracy is affected by the manipulation of information and trust on digital platforms. For details on the other lectures, you can check out our Digital Democracy 101 project page.
Video: Can't attend in person? Livestream the lecture on our YouTube channel. Video and highlights will be available on the event page after the event. Language: The lecture will be in English. A French highlight video will be available after the event. Moderator: Wendy Hui Kyong Chun, Canada 150 Research Chair in New Media in the School of Communication, Simon Fraser University _____________________________________________________________________________ Avant de voter, renseignez-vous sur les technologies qui perturbent votre démocratie Découvrez les forces invisibles sur les plateformes numériques qui peuvent affecter ce que vous voyez – et ce que vous ne voyez pas - au cours de cette conférence gratuite par Carl Miller, directeur de la recherche chez Demos.  Il expliquera en quoi l'économie de l'attention peut nuire à la démocratie.  Les plateformes numériques se font concurrence pour accaparer notre temps et notre attention, ce qui peut souvent déformer ce que nous voyons et falsifier la source, et ainsi nous empêcher de disposer de l'information fiable dont nous avons besoin pour prendre une décision en toute confiance lors d'une élection.
Ceci s'agit de l'une des trois conférences publiques gratuites organisées par le Forum des politiques publiques et ses partenaires, qui expliquent en quoi notre démocratie est affectée par la manipulation de l'information et de la confiance sur les plateformes numériques. Vous pouvez consulter notre site web pour plus de détails sur les autres conférences de la série « Introduction à la démocratie numérique ». Vidéo : Vous ne pouvez pas y assister en personne? Regardez la conférence en directe sur Youtube et les vidéos seront disponible sur notre site web après la conférence. Langue : La conférence se déroulera en anglais. Un résumé en français sera accessible après l'événement. Modératrice: Wendy Hui Kyong Chun, Canada 150 Chaire de recherche en nouveaux médias, l'Université Simon Fraser Land Acknowledgement "We respectfully acknowledge that this event takes place on the Unceded, Traditional, Ancestral Territories of the Sḵwx̱wú7mesh, səl̓ilw̓ətaʔɬ, and xʷməθkʷəy̓əm First Nations." Accessibility Information SFU Harbour Centre is located at 515 W.
Hastings St, and is located a brief walk from Waterfront station and numerous bus stops. Bike stalls are available outside the main entrance. Nearby parking is available at 500 & 400 W. Cordova St.There are washrooms located on all floors of the building. Accessible, private bathrooms and gender-neutral washroom stalls are available on the first floor in the east corridor. All floors within the building are serviced by elevators.If you have any questions, concerns,or comments regarding this event's accessibility, feel free to connect with us at 
[email protected]
Thank you to our partners / Merci à nos partenaires: