Digital Marketing Transformation
Toronto
Canada @ (CA)
Tel 2019-01-31
Categoria Events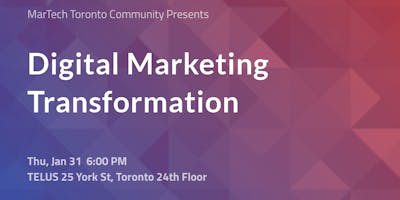 The MarTech Toronto Community presents the first exciting event of the year focused on Digital Marketing Transformation and how companies can best leverage large scale marketing technologies (MarTech).  Speakers: Dan Radu, President Macro Marketing Operations (MOps) Agency Dan Radu leads Macro, an agency dedicated to running sales and marketing operations at scale. He founded the company in 2013 with the vision to empower companies with digital marketing technologies. Dan also leads the MarTechTO Community and sits on the MarTech Council with the Canadian Marketing Association. Ahmed Eleman, Digital Transformation Lead Adobe Experience Cloud Ahmed Elemam is a digital transformation leader with Adobe. A self-described "data-holic digital", Ahmed works with clients on Adobe Marketing Cloud implementations, digital strategy and business analytics.




He's helped build world-class digital experiences for Best Buy, WestJet, Mark's (Canadian Tire), Johnson Insurance, Best Western, JWT & Air Canada and TELUS. Ahmed has been featured in the Globe Magazine for his role in reviving Air Canada's top route, Rapidair. He's also presented at conferences including Adobe Summit, CMO Exchange (San Diego) and ITB (Berlin) Host: Fernando Alfaro, Senior Data Architect Lead Telus Canada Fernando Alfaro has over 15 years of experience in Telecom working on web development, analytics, digital marketing, marketing automation, data engineering and personalization. Fernando has worked enabling new technologies for marketing automation and personalization leveraging the Adobe Experience Cloud and Telus Internal Systems. Fernando is also the Business Data Stuart for the Telus Digital data supporting other teams utilizing digital data as well as advising on privacy and governance.


TELUS Digital is the team leading the digital evolution at TELUS. As a product-driven team, they know that technology makes the world go faster and they're delivering at a speed unheard of in a large organization.