Emmanuel Idowu Presents "Living His Best Life"
Windsor
Canada @ (CA)
Tel 2018-11-17
Categoria Events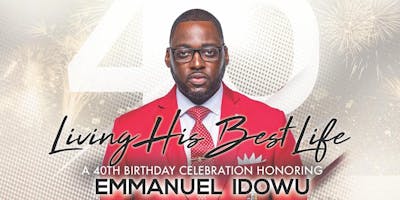 FOR IMMEDIATE RELEASE October 17, 2018 Emmanuel Idowu Presents "Living His Best Life" A 40th Birthday Celebration Saturday November 17, 2018 DETROIT, MI –  "Living His Best Life" will celebrate the 40th Birthday for Emmanuel Idowu a devoted Brother, Father, Husband and Son. A Detroit Native, product of Detroit Nothern High School and a graduate from Wayne State University. Life Member of Kappa Alpha Psi Fraternity, Inc, who has committed his entire life to serve the community and assist those who are in need.  "Living His Best Life" is scheduled for Saturday November 17, 2018 at the Horatio Williams Foundation in Detroit, MI from 8pm – 1am. This event will not only celebrate Emmanuel's life but will be a reunion of sorts and a great opportunity for a diverse group of working professionals to network.
The event is absolutely FREE but you must RSVP at visit http://livinghisbestlifeat40.eventbrite.com  Finally, in lieu of birthday gifts please consider making a donation to the Kappa Detroit Foundation. Emmanuel was recently elected to the Board of Directors and would like to make a significant contribution to support the 2019 Scholarship Campaign. Emmanuel is looking to raise $1,911 to support the Kappa Detroit Foundation Scholarship Fund. To date there has been just over $750 raised. Let's keep pushing to reach our goal of $1,911 by Saturday. This would be a great birthday gift. All donations are tax deductible. Cash App - $kdforg Checks - Payable to Kappa Detroit Foundation PayPal –
[email protected]
Your careful consideration is greatly appreciated.
Thanks, Living His Best Life Host Committee