Edmonton
Canada @ (CA)
Tel 2019-01-17
Categoria Events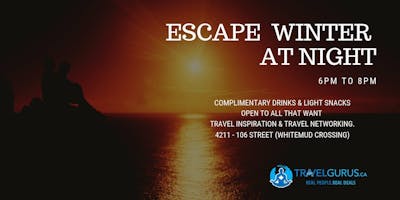 Escape Winter At Night - A Free Travel Networking Event Complimentary Drinks & Light SnacksOpen To All That Want Travel Inspiration & Travel Networking 6-8pm at Travel Gurus Office 4211 106 street (Whitemud Crossing) 6pm - Networking, drinks & light snacks7pm - Special Guest Presentation (Guest announcements on social media) January 8th VIVA LAS VEGAS WITH AIR CANADA VACATIONS  Who loves Vegas? Find out how best to see the hottest destination of the year. From hockey fans, family fun, day/night parties to desert adventures. Vegas has it all & is the easiest for a quick vacation to escape winter & take advantage of summer. Tons of giveaways & more. Janruary 17th Adventure Goals with G Adventures When it's more intimate, personal and purposeful you don't just see the world, you live it.




Embrace the Unexpected. Step Off the Beaten Path. Soak up the Extraordinary. Special guest Gary Armstrong will inspire your next trip and give you the exclusive insider tips & tricks.  January 25th COMING SOON February 1st COMING SOON February 6th features Honeymoon & Destination Weddings with Playa Resorts (Hyatt Resorts, Panama Jacks, Hilton Resorts & Jewel Resorts) Join Fredie Marsh, representing the world's most luxorious properties for honeymoons and weddings, ready to give you the inside scoop on how to get the best value for your honeymoon or destination wedding. February 12th features Off The Beaten Path Travel with On The Go TravelFrom grand palaces to historic temples, hot desert plains to snowy mountain peaks, cosmopolitan high rise to safaris at sunrise; we bring you the finest sights and adventures the world has to offer.


Immerse yourself in a truly authentic local experience. Special guest Conrad Mina is will inspire your next trip with first hand experiences and exlcuisve insuider tips on how to get off the beaten path.  February 15th COMING SOON February 22nd COMING SOON March 1st Exodus Travel Epic Cycling Trips  Join Kent Phillips from Exodus Travel. Cycling Tours One world, two wheels. Our cycling tours come in all shapes and sizes, from gentle cycling tours in the Loire region of France to a fully supported expedition in Morocco's High Atlas Mountains. Or try pedalling the length of Vietnam and getting under the skin of its unique culture and cuisine, or emulating the pros on a leg-burning tour through the Pyrenees. All our cycling trips are graded to indicate their level of difficulty, with the percentage of on- and off-road riding and the amount of vehicle support also noted in the trip profile to help you find your perfect match.


On cycling tours you can fully engage with your surroundings and really immerse yourself in a destination. Travel further than you can on foot, and enjoy the freedom to stop whenever you want to explore hidden areas that are inaccessible to cars and buses. What better way to travel?