FutureMakers Talks: APIs – The World's Tech Connector
Toronto
Canada @ (CA)
Tel 2019-02-27
Categoria Events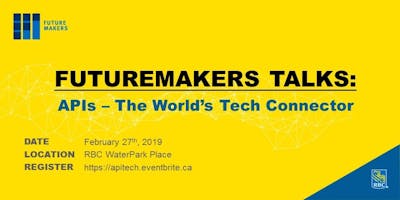 APIs have existed since the 60s but its true power has only been recognized and utilized in the last decade. Organizations of all sizes have adopted API as it can simplify, accelerate and strengthen the development of software. However, while everyone has embraced the usage of API – have we truly been able to reap the benefits of API? How can we use our APIs better? How can we scale the growth of API? What does the future of APIs look like? Join FutureMakers as we explore the world of APIs on Wednesday, February 27th.  Agenda:  5:30pm: Innovation Lab Tour (based on ticket purchase)6:00pm: Doors Open6:30pm: Talks Begin8:15pm: Open Networking The evening will feature talks from Various Toronto Tech experts: Anant Jhingran - CTO -  Apigee, Google Bob Blainey - VP, P&CB Architecture and Platform Engineering - RBC and more...
Limited Supply: Get an exclusive tour of one of RBC's Toronto Innovation Labs. Located in the office tower at WaterPark Place, see first-hand RBC's Innovation Lab and hear about their initiatives. Select the "Ticket + RBC Innovation Tour" ticket to secure your spot.  Speaker's Biography TBA FutureMakers Talks The FutureMakers Talks series is an on-going meetup and learn tech community event presented by RBC. The talks are designed to bring tech enthusiasts, practitioners and experts in the tech community under one roof to share knowledge and discuss major tech advances. The series will feature stimulating discussions on machine learning, digital payments, digital design, cybersecurity and more. *** If cost is prohibiting you from attending our event, please contact us at
[email protected]
and we will ensure you have access to attend.
***  Bob Blainey RBC VP, P&CB Architecture and Platform Engineering Anant Jhingran Apigee, Google CTO