GCWCC Closing Celebration / Célébration de clôture de la CCMTGC
Ottawa
Canada @ (CA)
Tel 2019-02-15
Categoria Events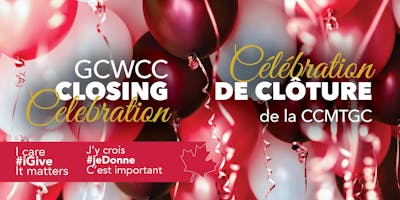 Come one, come all federal public servants and retirees to the Government of Canada Workplace Charitable Campaign (GCWCC) closing event on Friday, February 15th at noon. This year, public servants and retirees have donated over $15 million (and counting) in the NCR alone. We want to celebrate this success and thank volunteers and donors who have gone to infinity and beyond to make a positive impact in our communities. After all, it's what we do - improve the lives of Canadians. Guests are invited to Ottawa City Hall where there will be an awards ceremony to honour the most innovative, dedicated, engaging and caring campaigns. Did someone say lunch? We've got you covered. Guests will be able to warm-up with some chili and refreshments. Need we say more? We want to see YOU and your colleagues so we can celebrate the difference we are making together.
Nous invitons tous les fonctionnaires fédéraux et retraités du gouvernement du Canada à l'activité de clôture de la Campagne de charité en milieu de travail du gouvernement du Canada (CCMTGC) qui aura lieu le vendredi 15 février à midi. Cette année, les fonctionnaires et les retraités ont donné plus de 15 millions de dollars (et ça continue) dans la RCN seulement. Nous souhaitons célébrer ce succès et remercier les bénévoles et les donateurs qui ont tout fait pour avoir une influence positive sur nos collectivités. Après tout, notre but est d'améliorer la vie des Canadiens. Les invités sont conviés à l'hôtel de ville d'Ottawa, où il y aura une cérémonie de remise de prix afin d'honorer les campagnes les plus innovantes, dévouées, mobilisatrices et bienveillantes.
Vous avez un petit creux? Nous avons ce qu'il vous faut. Les invités pourront se réchauffer avec du chili et des boissons. Que dire de plus? Nous espérons pouvoir compter sur votre présence et celle de vos collègues afin de célébrer la différence que nous faisons ensemble.