How to Start Your Own Side Hustle
Vancouver
Canada @ (CA)
Tel 2019-11-21
Categoria Events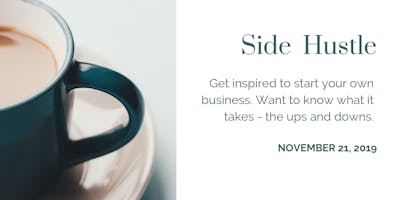 Are you still waiting for the perfect moment to launch your side hustle?  Join YWiB on November 21st and learn from other successful female entrepreneurs who have started their own business.  Hear from their experiences first hand and get inspired to make the plunge. Speakers: - Alicia Adams - Eleven Eleven Talent- Sarah Boland - Life Lapse- Tatum Blize - Beautycounter- Alicia Bernbaum - Entrepreneur  Agenda: 6:00 - 6:30 PM Registration and Networking6:30 - 7:15 PM Welcome and Panel Discussion7:15 - 7:40 PM Break7:40 - 8:40 PM Workshop with Alicia Bernbaum Light refreshments will be provided. Register now. Alisha Adams, Eleven Eleven Talent Alisha is fed by passion and fuelled by connection. With over a decade in Talent Acquisition, she has transformed careers and lives across industries—and oceans.
Having studied Fashion Merchandising and worked for global apparel brands Alisha has a strong knowledge of the product lifecycle and retail landscape. She has built extensive talent networks throughout North America, Europe and Asia. Global experience and a network built on deep respect poised her well to co-found Eleven Eleven Talent Collective, an HR and Recruitment Consultancy. Balancing business strategy with emotional intelligence, Alisha customizes experiences based on each individual's unique desires, bold in the conviction that there's no such thing as one-size-fits-all when it comes to fulfilling your dreams.  Alisha is passionate about elevating women in business and entrepreneurship and frequently speaks on these topics. She believes in everyone's right to design a life they love through awakening their purpose, passion, and career.
Sarah Boland, Life Lapse   Sarah Boland is the Founder & CEO of Life Lapse, where they have created a community of over 500,000 video creators. Her app helps people create stop motion videos 10x faster & 400x cheaper than using professional equipment. She is based in Vancouver, BC and has bootstrapped her company to profitability. When she's not working, she is likely hiking in the mountains with her husband and furbaby rescue, Jack, enjoying wheat ale beers with friends or scoping out the latest vegetarian dishes in town.   Alicia Bernbaum, Entrepreneur  Alicia Bernbaum is a Leo award nominated video producer, program manager and creative director. She has been producing and creating content for almost a decade. Alicia is curious, bold, smart and full of wonder for the world.
Almost 7 years ago she discovered Cognitive Behavioural Therapy to help with her moderately severe anxiety that was impacting her ability to do the things she wanted to do, live boldly and curiously. It completely changed her life. She now does talks on her experiences with CBT and is working on changing the game for Canadian's aged 14+ when it comes to self-awareness and their understanding of themselves using branded video content rooted in CBT.