JMH $80,000 LaunchPad Pitch Competition
Calgary
Canada @ (CA)
Tel 2019-04-03
Categoria Events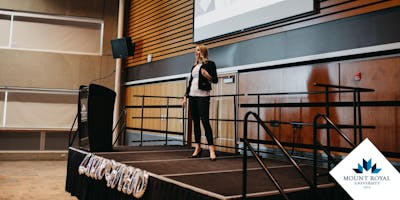 Come cheer on Mount Royal University's Entrepreneurs.   Watch the top ventures compete for $80,000 in cash and in-kind services during the seventh annual JMH LaunchPad Pitch Competition. LaunchPad is our biggest event of the year where students and recent alumni from across campus pitch their venture to a panel of esteemed judges and a supportive audience. Teams are given 5 minutes to pitch, followed by another 5 minutes of Q&A from the judges. The most promising ventures will walk away with their share of $80,000 in cash and in-kind services to take their venture to the next level.   The 2019 JMH LaunchPad is generously supported by JMH & Co, the BUSY Foundation, LaBarge Weinstein LLP and Bridgewater Labs. Bar + Appetizers will be available.  Stay Tuned for the 2019 JMH LaunchPad Participants  - To Be Announced Mid-March Accepting Applications Until March 03: bit.ly/mrulaunchpad2019 - Open to part-time and full-time MRU students registered in a degree program and recent alumni who completed their degree no earlier than Winter 2018.
Hosted by Emily Knight, Entrepreneur Development Manager  Speaker: Ray DePaul Ray Depaul is the inaugural Director of the Institute for Innovation and Entrepreneurship at Mount Royal University. The Institute's mission is to graduate the most entrepreneurial minds in Canada. Ray has launched many innovative products in his 30-year career. He has been a successful entrepreneur, selling his previous company to Intel, and was also a key member of the team that brought the iconic BlackBerry to the world.  Why Should You Attend?  Celebrate Innovation and Entrepreneurship with over 300 community members, students, and alumni Come see what the innovators of Mount Royal University are excited about and building  Where can I contact the organizer with any questions? Emily Knight, Entrepreneur Development Manager, Institute For Innovation and Entrepreneurship  403.921.6239 or
[email protected]
  Where can I park?  Visitor and Daily Parking: The East Gate Parkade, Lot 6A Directly in from of the Riddell Library or the Open Lots A and B.
Please note you must access the parking lots via Richard Road SW.  LaunchPad Alumni Spotlights from 2017 Alexandra Daignault | Founder | Sarjesa  In Canada, violence towards women is a major issue of growing importance. With so many missing and murdered Indigenous women in Canada, Alexandra grew tired of waiting for the system to change. In response she launched Sarjesa, a socially focused tea company, supporting local violence prevention programming for women through the sale of high quality loose leaf tea. $2.00 from each box of tea is donated to shelters in the region that support women in crisis. Alexandra's passion and determination empowers Canadians to have the ability to induce change through everyday actions and purchases. Ormhel Manuel | Co-Founder | Carberri  It's hard to deny the pains of buying and selling a used car.
After gaining an in-depth understanding of the challenges, Abby and Ormhel launched Carberri. Their online platform makes buying or selling a great car simple, fast and fun. They ensure a safe and efficient process by handling inspections, vehicle prep, and delivery. Buyers pay less and sellers get more—that win-win combination is what they like to call a sweeter solution.Abby and Ormhel pitched their venture and walked away with $30,000 in cash and services during the JMH $70,000 LaunchPad Pitch Competition.