Justin Duhaime's GYPSY MUSE ft. William Lamoureux
Ottawa
Canada @ (CA)
Tel 2019-02-23
Categoria Events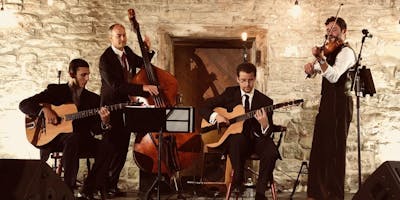 Justin Duhaime's GYPSY MUSE ft. William Lamoureux Inspired by the legacy of legendary manouche guitarist Django Reinhardt, the music is driven by swinging and grooving rhythm guitar which functions as a vehicle for improvisation. They combine an eclectic mix of high energy swing, latin grooves, virtuosic fast tempo tunes and luscious ballads. Find them at the confluence of the old and the new. Justin Duhaime - guitarNabil Yaghi - guitarWilliam Lamoureux - violinNormand Glaude - bass https://youtu.be/tvzkrd9W6p0 Justin Duhaime is a passionate guitarist, composer and teacher based in Ottawa. He has performed at ChamberFest, JazzFest, FolkFest, TulipFest and sold out concerts at venues such as Irene's Pub and Pressed. Duhaime is the recipient of the Ottawa Arts Council's 2018 RBC Emerging Artist Award, the first musician to ever receive the award.
As a freelance guitarist Duhaime has performed in a wide array of musical styles. Most recently, he has emerged as a leading figure in the jazz manouche scene in Ottawa. Duhaime has a self-published guitar book and is sponsored by DK Guitars. www.JustinDuhaime.comWilliam Lamoureux is a recent Humber College music graduate (2017) and a highly in demand violinist playing in a variety of groups (So Long Seven, Billy Love Band, Playground Project, etc) and as a session musician. He received the Gordon & Anne Wragg Music Scholarship in 2016 and 2017 as well as the Humber Board of Governors Award in 2016. https://www.williamlamoureux.com/Nabil Yaghi has a deep fascination with Django Reinhardt's music. Hearing Django for the first time in his early teens, Yaghi began imitating the manouche stylings and developing his ability to improvise.
Today, he continues to seek higher musical ground and wishes to spread an inspiration in Django's music to others.Normand Glaude started to play music at the age of 5, when his father gifted him with a diatonic harmonica. Within weeks, he was playing a handful of reels and was performing with his father in retirement homes. In high school, he joined a rock band in need of a bass player, then fell in love with the lower frequencies. Jazz appeared much later in his career, in his mid-twenties, as Normand transitioned rock to jazz-fusion, then to traditional jazz – going back in time, but now on the double bass. He became obsessed with melodic bass lines, solid time and great grooves, and became the bass player of choice for many artists in the Ottawa region.