Kingston's Queeraoke Superstar
Kingston
Canada @ (CA)
Tel 2019-11-09
Categoria Events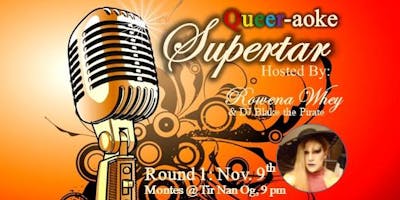 The first ever edition of Kingston's Queeraoke Superstar, a karaoke showdown for all of Kingston's karaoke aficionados. This competition is open to everyone, LGBTQIA2S* and allies alike. Round 1: Nov. 9th Round 2: Nov 23rd Round 3: Dec 7th Competitors will be asked to prepare karaoke numbers for three rounds of competition.The first round consists of a single song, the second and final rounds will both consist of 2 performances. The top 3 competitors will win fabulous prizes. People may compete as solo acts or in groups of 2 (maximum). Registration for the first round is free, however will be limited to 30 performances. Special Guest Host Rowena Whey will be on site performing some of her signature drag numbers during the show. Rules and Regulations: 1.
The first round will be limited to 30 singers, and first round songs may not be greater than 5 minutes in length. 2. Second round is top 10. Each competitors prepare 2 karaoke numbers. 3. Third and final round is top 5, each competitor prepares 4. Advancing competitors are decided by audience vote for the first two rounds. 5. All audience members receive one voting ballet per round. Additional ballots may be obtained by purchasing a drink at the bar. 6. The third (and final) round will be judged by a combination of local icons and audience vote. 7. In the case of a tie, both singers will perform the same song. The song and order will be determined by coin toss, and selection from one of two per-determined songs. 8. Any acts of sabotage will result in immediate disqualification.
9. This event is 19+ due to the service of alcohol.