Leaders Changing the Face of Workplace Mental Health
Toronto
Canada @ (CA)
Tel 2019-04-04
Categoria Events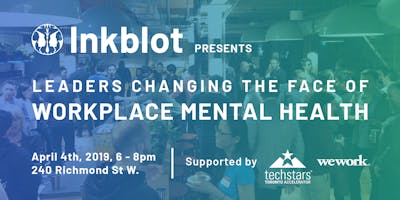 JOIN US on Thursday, April 4th, 2019 from 6 - 8 pm for a conversation focused on work and psychological health. In efforts to change the face of mental health in the workplace, we have invited some of Toronto's outstanding leaders to share their personal and professional mental health stories and provide actionable advice on how to improve workplace culture and productivity. Event focus: Every day, people around us are struggling. As employers, it is our ethical responsibility to understand how mental health affects organizational behaviour and to have the knowledge and resources to support ourselves and our people. Just as no one is immune to mental health risk, no workplace is either. Join us to learn from our speakers and contribute to a conversation focused on: Impact of burnout The 24/7 employee Leadership support - do I have it? Creating and accepting new norms Corporate responsibilities Details: Date: Thursday, April 4th, 2019 Time: 6:00pm - 8:00pm Location: WeWork - 240 Richmond Street West, Main Floor, Toronto Our outstanding panelists:   Cherry Rose Tan A celebrated educator and serial entrepreneur based in Toronto's startup scene, Cherry Rose is a Transformative Coach, co-founder of two education startups and an early investor of Paycase Financial.
With a decade of experience in psychology, she is a mental health authority in the tech space and has been helping other tech leaders use their lived experience to shape their lives in meaningful ways. She values deep connection, delivering inspiring keynotes around the world and working with entrepreneurs to make their dreams a reality.       Read more about Cherry. Eric Pierni An original member of eBay's marketing team and part of the three-member team that launched the Kijiji online classified business in Canada, Eric became a Registered Psychotherapist and founded Men Therapy Toronto as a result of his personal life experiences which helped him see with starkness, that quality care for men who are looking for help is not always easily available, accessible or understood. From successful CEOs, entrepreneurs, business executives to young men who are just trying to make their way in the world, Eric provides support to help them become better men.
Read more about Eric. Jason Tafler Founder of Unyte Health, a meditation technology company, Jason is a former executive at Rogers Communications. In 2016, he had a near-death experience due to a life-threatening condition caused by 70 to 80 hour work weeks. This incredible life-changing experience led to major lifestyle and career changes and Jason following his passion to work in health and wellness and inspire others to live authentic, fulfilling lives.      Read more about Jason. Kelsey Cole Founder of MVM and dubbed the "Leading Female in Crypto", Kelsey is the first recipient of the Decade of Women's FrontierWomen300 Award for her work with the United Nations on the Sustainable Development Goal Gender Equality.  Prior to taking on crypto, she was a leader in the cosmetics field until she suffered mental health issues caused by being overworked and undersupported.
Kelsey is a mental health advocate who is most proud of the time she spends fighting for women's rights in and out of the workplace.     Read more about Kelsey. Luke Vigeant (Moderator) Luke is a technology entrepreneur with a focus on taking products from concept to market. He has held titles of CPO and CTO at various companies ranging from Media, Technology to Healthcare. Most recently, as Co-founder and CEO of Inkblot Therapy, Luke is fulfilling his mission to reinvent how we support Canadian's mental health.      Read more about Luke.