Living in Color Post Abortion Work Shop & Training 2019
Calgary
Canada @ (CA)
Tel 2019-02-22
Categoria Events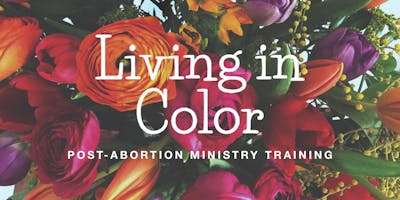 It is our desire as a church to respond with compassion to those who suffer from post-abortion. This Friday evening / Saturday seminar co-hosted with the Calgary Pregnancy Care Centre will build your confidence and knowledge in how to respond to someone suffering from this silent grief. The Living in Color work shop is multi-faceted, faith-based, post-modern and suitable for all backgrounds. Seminar includes teaching on grief, mental health and in-depth training for how to care for those who struggle following abortion. We are not seeking to commence a formal post-abortive ministry, instead we desire to provide this as a tool for discipleship. It is our hope that you will join us on February 22-23 so that you will feel confident to respond from a place of knowledge and compassion.
It is our desire as a church to lead in this area towards restoration and wholeness. The work shop will provide you with a copy of the Living in Color post-abortive recovery manual. This will assist you to walk alongside a post-abortive woman through an 8 week carefully crafted journey of recovery. Facilitators: CPCC, Jutta Wittmeier and Jenny McDermid Registration fee includes workshop resources, light meals and snacks. Registration deadline: February 14, 2019 Please contact
[email protected]
or 403-520-2680 to see if we can accommodate late registrants. Fee: $50 For more info: 
[email protected]
  Dates Friday, February 22, 2019 5:30 pm – Registration opens with light supper served on arrival. 6:00-9:30 pm – Evening session Saturday, February 23, 2019 8:30 am –  coffee and goodies served upon arrival 9:00 am – 5:00 pm – Sessions include lunch and afternoon snacks.
Due to committed expenses, we are unable to provide refunds. In the event of a last minute cancellation, please consider donating your reservation to a friend. Thank you for making home arrangements for the care of babies and children.