Lougheed College Lectures: Winter 2019
Edmonton
Canada @ (CA)
Tel 2019-03-04
Categoria Events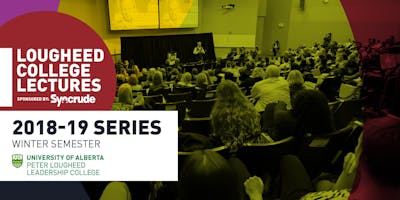 Listen. Learn. Lead. Be informed, challenged, and inspired by local, national, and international leaders from government, business, academica, and the cultural and nonprofit sectors. The Lougheed College Lectures present exceptional speakers from interdisciplinary backgrounds. They will share their perspectives and insights on the leadership needed to face the complex challenges of the 21st century. Series Line-Up January 28: Marcia Nelson speaking on Mobilizing Others to Act Overseeing 27,000 employees to manage a $55-billion organization requires strong leadership to ensure the highest quality in public services. Drawing from her varied career in public service and leadership of public sector and community organizations, Marcia Nelson will share the Alberta Public Service's approach to engaging employees within the organization, and how the public service coordinates action with public and private organizations, stakeholders and citizens to best serve Albertans.
February 11: Bradley Clark speaking on Leading Through Change Bradley Clark is the former Executive Director of the Edmonton Drug Treatment Court. This lecture will discuss leading through change by highlighting key lessons learned from Brad's personal experiences over the past decade specifically while leading a period of incredible change within the Community Corrections Branch of Alberta Correctional Services.   March 4: Jana Pruden speaking on The Misery Beat: The Ethics of Reporting on Crime and Human Suffering From the front page to the home page, stories of crime and tragedy have dominated news coverage since the earliest days of journalism. Today, crime stories continue to be among the most-watched and read pieces produced by many news organizations, while true crime documentary series and podcasts have further expanded the reach and popularity of what was traditionally known as "The Misery Beat." But what obligation do reporters and news organizations have to the individuals and communities who are affected by crime and tragedy, and to the broader public? Why are we drawn to these sad and tragic stories, and is there a better way to tell and share them? Should we even be telling them at all? In this lecture, veteran crime reporter Jana Pruden goes beyond the police tape to examine the ethics around media reporting of crime, disaster, and tragedy, and consider both the meaning and significance of these difficult true stories.
  PLLC is partnered with the U of A's Campus Food Bank. Please consider bringing a non-perishable food item to the next Lougheed College Lecture. FAQs   What are my transportation/parking options for getting to and from the event? Telus Centre is located on 87 Street. Underground visitor parking is available at the Timms Centre next to Telus Centre. There is a drop-off zone in front of Telus Centre, and the University Station is a five-minute walk away. This event is accessible, and we invite anyone with accessibility requirements to contact us in advance.   How can I contact the organizer with any questions? Please contact the PLLC General Office by phone at 780.248.1305 or email at
[email protected]
during regular business hours (8:30 AM - 4:30 PM).
  Do I have to bring my printed ticket to the event? No. Registration will be facilitated according to your name. Is my registration fee or ticket transferrable? Yes. Whoever takes your ticket can use your name at the door.