March Break Camp: International Flavours
Paris
Canada @ (CA)
Tel 2019-03-11
Categoria Events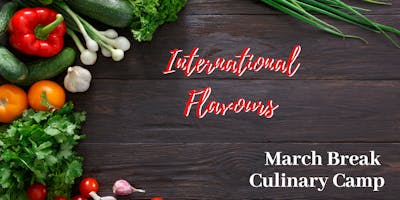 Join Chef Zehr and a host of volunteers for a week of international culinary discovery.  This 5-day camp will be filled with fun and food. Camp is ideal for kids aged 8 - 13 and will include a blend of time cooking up delicious treats in the kitchen along with a mix of games and crafts. Dress for the weather as we'll spend time indoors and out. Monday. Welcome to the kitchen, it's knife to meet you. Today we'll get accustomed to the tools and equipment we'll be using during our week together. Learn to use a chef knife, run the high speed dishwasher, and whip up a batch of dough in our super sized mixer. Tuesday is a Mexican fiesta as Chef showcases delicious, ingredient-driven foods of Mexico including fresh pico, quacamole, homemade nachos and REAL tacos. .




. Finish up the day learning to make churros and a chocolate chili sauce for dipping. Wednesday, campers will travel to Thailand as you learn how to create your own delicious rice wraps, green Thai curry and many flavours of Thailand.  Our afternoon snack will combine classic Thai flavours of pineapple, coconut, cilantro and of course, Thai chili. . Thursday we will Investigate Italy to learn how to make foods from various regions of Italy while mastering the techniques of making fresh pastas and risottos. We will also be creating our own focaccia bread for our olive oil tasting. . On Friday, learn to create exotic Indian dishes with Chef Zehr as he guides you through India to create pakoras, fresh Naan bread, Butter Chicken with Rice and finish up with a hearty saffron rice pudding.


All food will be included, but please send along a water bottle to keep campers hydrated. Camp runs from 8:30am - 4:30pm from Monday to Friday. Early drop off is available at an extra cost.