Model Portfolio Builder/Workshop- Oct 4 OR 5th
Edmonton
Canada @ (CA)
Tel 2019-10-04
Categoria Events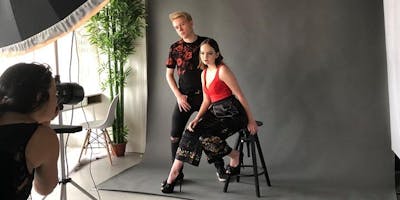 Model Portfolio Building Shoot & Workshop : Details below  tickets : https://www.eventbrite.ca/e/model-portfolio-builderworkshop-tickets-70588226285 --------------------------------------------------------------- SATURDAY ADD ON : Runway Basics  presented by Walk the Talk Courses - full details and sign up here : https://www.eventbrite.ca/e/runway-walking-basics-tickets-70652336039 --------------------------------------------------------------- Choose from either day:Oct 4 or 5 th ( same workshop each day) - please specify date when booking  Friday spots between 2-9 pm Saturday spots between 4-9 pm What to expect:  You will arrive at your pre-arranged time slot for a full makeup application to glam you up :)  You will then participate in a one on one  portfolio building photo shoot being guided on how to pose , coaching you along the way. I will teach you how to work the camera using flow posing and how to sell any product as if you were doing a magazine or product shoot .
( see below for full details ) * You will learn also how to make money at modelling rather than being known as a TFP model . Who doesn't want to make money ?  In the end , you will have great knowlege going forward with your career and a photoshoot with photos you can use in your portfolio for go-sees, modelling jobs, interviews with agencies and much more . Posing 101 will include : - FLOW POSING ( demonstrated by Kayley Deren Model )  - Legs: Poses for making legs longer, slimmer and making legs look more interesting. - Hips: The art of moving your hips to make the pose look better. - Arms: Posing with arms. All the things you should and shouldn't do with your arms. - Hands: What to do with your hands and tips to make your hands look better in pictures. - Chins and Necks: Where to position your chin in relation to your neck.  - Shoulders: How to work and move your shoulders .
- Posture: How to work your posture to give interesting images  - Hair: How to use your hair to make the images more interesting - Expressions: How many different expressions gives the photographer more to work with - Movement: How to move your body to show off and sell any product . Photoshoot:Your photoshoot will yield the top 5 best shots from your session for your portfolio When booking, please specify time and date preferred and is based on availabilty    FAQs   What can I bring into the event? Please have your hair clean and styled in a straightened style ( bring pony tail holder ) At least one fitted tank top in either white or black and can be crop. Blue jeans .One dressier outfit - try to find something fashion forward with color to stand out . no black pants .And shoes to match both outfits .
Heels for latter .   How can I contact the organizer with any questions? Email :
[email protected]
with your specified date and time preference   What's the refund policy? No refunds   Is my registration fee or ticket transferrable? Yes and please let us know if you do transfer to another person. If you can't make it , it can go towards another photoshoot but this event is a huge discount and you will have to pay extra fees for a private session ( Reg. $250.00 for shoot , extra time for workshop $150 plus makeup artist $75 )   Is it ok if the name on my ticket or registration doesn't match the person who attends? Yes but please let us know ahead of time so we know