Ottawa
Canada @ (CA)
Tel 2019-03-08
Categoria Events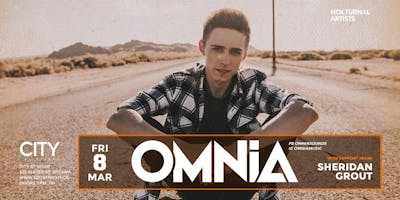 Friday March 8th, City At Night presents: Omnia (Armada Music) https://www.facebook.com/omniasounds https://soundcloud.com/omniaWithout doubt one of the most exciting and fast rising names to emerge from the progressive & trance scenes in recent years is Ukrainian DJ / producer Omnia. Having jumped into the Top 50 of the prestigious DJ Magazine Top 100 DJs poll at #48 at the end of 2013, Omnia has continued to make a name for himself as an in-demand producer and globe-trotting superstar. Self-taught in the studio, Omnia's sound has a distinctive edge and a style that refuses to be pigeon holed. The catalyst for Omnia's big breakthrough year in 2012 was Omnia & Ira 'The Fusion', which went on to be one of the biggest tracks of the year across all dance genres, hitting #1 in the Trance chart in April and remaining in the Top 50 positions for over six months.
He went on to repeat chart success time and time again, raising the bar with his studio output to deliver a run of massive singles and remixes; 'Halo' feat. Melissa Loretta was awarded 'Future Favourite' by Armin on ASOT and further chart topping singles followed such as 'Infina', 'Hearts Connected' feat. Cathy Burton and a remix of Cosmic Gate feat. Emma Hewitt 'Calm Down' all leaving the dance community spellbound. Prior to 2016, further Beatport #1 singles 'The Light', 'Immersion' and 'Bones' feat. Everything By Electricity, plus a remix of Ronski Speed feat. Lucy Saunders 'Rise Again' and mixing one disc of Armin van Buuren's 'A State Of Trance 650' CD consolidated Omnia's position at the top of the game. Further big singles followed in 'Tomorrow People', 'Two Hands' feat.
Jonny Rose, 'For The First Time' feat. Tilde, a remix of Andrew Rayel 'Impulse', 'Reflex' with Luke Bond and 'Shanghai' all gaining impressive A-list support and sales figures. 2016 saw Omnia up the pace again with a succession of big singles including vocal collaborations with Audrey Gallagher 'I Believe' and Christian Burns 'All I See Is You', as well as instrumentals such as 'Alien' and Future Favourite 'Mystique', all which charted impressively and garnered widespread playlist support. Omnia also released his 'Hold Me / Ultra' EP in November, which saw Omnia return to his famed signature 'Fusion' sound which shot him into the spotlight in 2012. As a DJ, Omnia's rise has been as impressive as his producer status, with performances including festivals such as Tomorrowland, ASOT, South West Four, Electronic Family, Trancemisson, Electrocity, Trancefusion and Only Open Air around Europe, World DJ Fest, Escape Halloween and Enchanted Valley Carnival in Asia, plus leading venue and event brands the world over such as Ushuaia, Cream and Privilege in Ibiza, Papaya in Croatia, Ministry Of Sound in the UK, Zouk Singapore, Octagon Seoul, White Party Hong Kong, Exchange LA, Foundation Seattle and Bal en Blanc Montreal and many more besides. 2017 saw numerous big releases including a remix of Armin van Buuren 'Face Of Summer', new vocal single 'Why Do You Run' feat.
Jonny Rose and collaborations such as 'The Gateway' with Ben Gold and 'Enigma' with DRYM which was featured on the ASOT 2017 compilation. Festival highlights included a return to the ASOT stage at ASOT 800 in The Netherlands, plus debuts at Transmission Thailand and Its The Ship Singapore.Omnia kick started 2018 with his 'Titans' track on the A State Of Trance label, a remix of Roman Messer & Betsie Larkin 'Unite', then the genre defying 'CYBERPUNK' which has been getting scene wide support. Two very big collaboration tracks are also well underway with two legends of the scene. With festival bookings getting confirmed until the end of the summer season, it's certainly looking on track to be another fine year for one of the hottest musical exports from Eastern Europe.
WITH SUPPORT FROM: Sheridan Grout (AVA Rec.) https://www.facebook.com/sheridangroutofficial https://soundcloud.com/sheridangroutofficial ADMISSION: Release 1 Ticket: $16.00 (Until Feb.12, or sold out) Release 2 Ticket: $18.00 (Before Feb.25, or sold out) Release 3 Ticket: $20.00 (Until Mar.8, or sold out) Limited quantity available at the door as of 11pm, subject to capacity. BOTTLE SERVICE RESERVATIONS Menu: www.cityatnight.ca/menuContact: 6132412489 - Reservations will only be guaranteed until 12am. - Standing/Bench table reservations: $150 minimum - Booth by DJ reservation: $300 minimum - Booth by entrance reservation: $400 minimum OTHER: Doors at 11pm 19+ (ID Required) ATM available Casual dresscode Masks, large or glow/light objects are not permitted.
LOCATION: City At Night 222 Slater St. Ottawa ON www.cityatnight.ca 6132412489