Park Memorial Presents Art for the Grieving Heart: Self-Care Vision Boards
Edmonton
Canada @ (CA)
Tel 2019-01-31
Categoria Events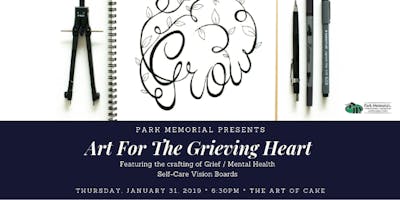 January is a dark month for grief and mental health. Join us January 31st on #BellLetsTalk Day for the first anniversary of our Art for the Grieving Heart events where we will focus on practicing grief and mental health self-care. Following a facilitated conversation exploring self-care and self-compassion habits, each guest will create a Vision Board, a reminder and visual cue of what their grief and mental health self-care strategy looks like. Park Memorial is pleased to present this unique event focusing on grief expression through art therapy and informal conversation. This intimate event will allow guests to create a beautiful vision board, and take part in a self-care discovery discussion. We are grateful to have The Art of Cake opening their doors and their divine bakery to our event once again.




We are also grateful to have the talent of Deanne Ferguson, Box Social Events, facilitating our craft activity. Our Art for the Grieving Heart events are enjoyed by a sold-out audience, and this was a comment from one of our former guests: "I liked the intimate setting and craft. I liked hearing other people's stories, good conversation, made me feel less alone in my journey. Loved how this event helped many people. Will most definitely love to come back. Thank you again". The event flows as follows: 6:15pm Doors open, sweet treats and warm beverages (included in ticket price) served 6:30pm Welcome and introductions 6:40pm Discussion begins 7:25pm (approx) Crafting begins 8:30pm Event draws to a close This event is more than an art class; please honour the intention of this event to bring those who are grieving together for an evening of connecting through creativity.


All grieving hearts are welcome, no matter the loss being grieved.