RECOVER | Starting with Research
Edmonton
Canada @ (CA)
Tel 2019-01-29
Categoria Events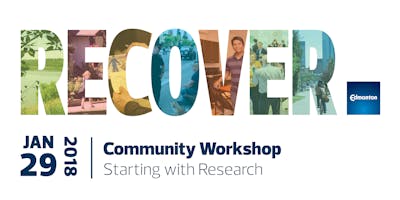 WHAT IF...we used social innovation to improve Edmonton's urban wellness? Following up on our kick-off sessions for the second year of RECOVER, we're hosting our next community workshop where we will start to explore our grounded research approach. We learned a lot from RECOVER's first year, but a big gamechanger was the deep ethnographic research led by InWithForward, a social design team that makes human services more human. The insights from their research helped us shape the first round of urban wellness solution ideas that we co-designed and tested with residents, businesses, and local organizations in the first year of RECOVER. The InWithForward team is returning this year, and we invite you to join us as we prepare to start another round of ethnography in the core and Strathcona to understand the stories and experiences of those who make up our communities.
At this workshop we will: Give you a taste of ethnography and its applications, Introduce the researcher network that we are building, Outline a plan for the coming months, and Hear your advice and insights about your communities. To help us best plan this event, please RSVP by January 23rd. ABOUT RECOVER Edmonton City Council directed the Administration to develop RECOVER: Edmonton's Urban Wellness Plan, to better understand the cumulative impacts of all the different activities and systems that affect wellness in the urban core. RECOVER is being developed using a social innovation approach that engages many stakeholders as they understand how their individual efforts impact each other. It also provides opportunities to look for alignment and collective efforts for improving urban wellness.  Over the next year we will move through this process together - starting with our research and stories (this workshop), making sense of the needs and insights and generating ideas to prototype.
We'll test out solutions and collecting feedback to refine the ideas to improve urban wellness in Edmonton.   We're Not Starting With a Blank Canvas Most innovative ideas include elements of solutions that have come before, combining them in unexpected and powerful ways. This isn't about replacing existing strategies, policies, programs or services that are already in place in these neighbourhoods. It's about testing small solutions to improve urban wellness and find ways to align and better collaborate across different orders of government, social agencies, local businesses and the community. Read our Community Report http://urbanwellnessedmonton.com For more information: https://edmonton.ca/urbanwellness/   FAQs   Who is invited to this workshop? All are welcome to attend.
You can expect to see a diverse group of residents and local business owners from Boyle Street, Central McDougall, Downtown, McCauley, Queen Mary Park and Strathcona, as well as representatives from the City of Edmonton, Province of Alberta, Post-Secondary, and community and social service organizations who have been part of the RECOVER journey in the past year and are continuing with us. Our RECOVER team also looks forward to any new individuals and organizations who are interested in using social innovation to improve urban wellness in Edmonton.  What are my transportation/parking options for getting to and from the event? There is free parking (lot across from the church and on the street) and transit accessible Is there childminding available for this event? Childminding will be available upon request.
Please let us know the number and age of your children in the RSVP and we will do our best to meet your needs.   How can I contact the organizer with any questions? Please contact Keren Tang, Project Manager at
[email protected]