Red Cross First Aid & CPR/AED Course In Ottawa, ON
Ottawa
Canada @ (CA)
Tel 2019-01-19
Categoria Events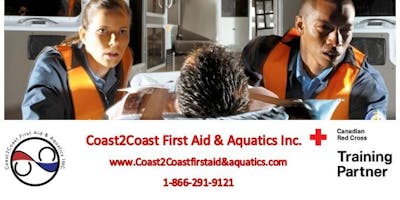 Coast2Coast First Aid & Aquatics Inc is an official Partner of Canadian Red Cross, and our teaching guidelines are approved by WSIB Ontario. PLEASE BE ADVISED, BY GETTING THIS FREE TICKET ON EVENTBRITE, YOU RECEIVE A 10% OFF ON YOUR COURSE REGISTRATION. COURSES AND EVENTS ARE NOT FREE. (For more information please contact us) Here are the courses that we offer:- - CPR/AED Course (Level C or HCP) - (One Day Course) - (9 AM to 5 PM) - Emergency First Aid & CPR/AED Course (Level C or HCP) - (One Day Course) - (9 AM to 5 PM) - Standard First Aid & CPR/AED Course (Level C or HCP) - (Standard First Aid courses consists of two days) - (9 AM to 5 PM) We Offer Courses in: 319 Rideau St, Ottawa, ONK1N 5Y4 You can take advantage of 10% OFF for a limited time on all of our First Aid & CPR Courses.




To register for a course, please follow one of the following options: 1) Visit our website at  www.c2cfirstaidaquatics.com/first-aid-cpr-aed-course-locations/   choose the location closest to you; choose your course level & date; Enter the promo code "Eventbrite10" and continue with registration. 2) Call us at our Toll-Free 1-866-291-9121 and one of our agents will be glad to help you register for a course. 3) Purchase a free ticket in Eventbrite, leave us your information and one of our agents will get in touch with you to help you complete your First Aid & CPR Course Registration.  We at Coast2Coast First Aid and Aquatics Inc. pride ourselves on developing the ultimate training facilities for all of our safety, First Aid and CPR Courses in Ontario.


Our courses utilize the latest, state of the art training supplies and equipment. Our instructors are each hand-picked Canadian Red Cross veterans with both instructional and practical experience. Together with them, we have devised the most efficient, interactive and educational First Aid and CPR program for ultimately, the best learning experience for you. Make sure to read our reviews to see what our clients have to say:  "Just finished the Emergency First Aid CPR/AED - Level C course and it was great. Best part was the references to real-life examples and stories that really helped to put perspective in various scenarios - Clint's an amazing instructor - thanks and feeling confident." Lil – Toronto www.c2cFirstAidAquatics.com/check-out-our-testimonials/ We also offer Private/Group courses to public and organizations.


For more information about private and group courses please contact our office at 647-885-2391 or visit our website.  Call 1-866-291-9121 to find out more information about these courses to register today. Class lists fill up fast so sing up today.