Reiki Level One Certification Class - Edmonton
Spruce Grove
Canada @ (CA)
Tel 2019-12-14
Categoria Events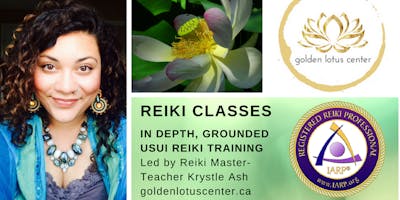 Usui Reiki Ryoho Level One Certification ClassYou are warmly invited to join this Reiki Level One class led by Reiki Master-Teacher Krystle Ash and to experience the deep peace and inner healing that Reiki brings.This in-depth, grounded and experiential Level One training is perfect for anyone who feels a call to learn Reiki.  We focus on learning the Japanese Reiki Techniques and set you up for success as a Reiki Level One practitioner by making sure you understand everything you are learning and feel confident learning your new skills.  This training consists of two, 8 hour days.Reiki Level I is the first level of certification. During this course you learn about the reiki energies, their source, and the founder of the Usui system of reiki healing, Mikao Usui.
You receive your first attunement to the reiki energy and learn the hand positions for both self reiki and treatment for a client. After Level I, you may practice on yourself, gift sessions to your family and friends, and may share reiki with plants and animals. This Usui Reiki Ryoho level One class: * is held at the Grow Center Teaching Space on Whyte ave.* is 16 hours long (2 x 8 hours days)* includes hands on practice of everything taught* includes time for questions* includes certificate and manual* covers the history of reiki, the 5 reiki precepts, hand positions for self treatment and treatment of others and more.* teaches simple meditation practices* relaxed and in-depth - you will feel confident + comfortable with what you are learning.* Payment plans are available, please inquire.
Learning reiki is a life changing experience. It is a daily practice that has the power to transform you as an individual, while helping you facilitate healing and transformation in those who are also ready and willing to begin the process in themselves. The benefits include deeper connection to source, heightened intuition, greater understanding of who you are, greater sense of compassion and inner peace, and a source of relief from ailments like chronic pain, sleep disorders, mental conditions etc. Krystle Ash has been facilitating healing with Reiki since 2012 and is a registered Usui Reiki Master-Teacher with the International Association of Reiki Practitioners.  WHAT OUR STUDENTS ARE SAYING:"Krystle had fantastic stories and insights to share.  She also had an amazing way of making the information easy to understand and provide ways to apply it to one's situation.  When emotions came out, the instructor asked if the class could just sit with men and offer Reiki, just being ther efor me with such great energy."  -- Carmen DeLisle, Reiki Level One Student"Being able to relate to my instructor was very special to me.  The most positive experience was meeting awesome women and realizing that we all have bumps in our path and those bumps are needed.
"  -- Kelly Hryniw, Reiki Level One Student"Krystle taught with wisdom, compassion and empathy.  She made everyone feel at ease to be themselves.  The most positive experience of this class was pausing to take time to hold space for classmates who needed support in the most empathetic, beautiful way."  -- Candace Pullishy, Reiki Level One Student"Not only did I learn Reiki from Krystle I also gained invaluable insights, was directed to enriching authors, and guided at every step to develop my own intuitive approach to Reiki.  Through these teachings, I have learned to work with energy in amazing ways I never imagined possible."  --Tahnee Collin, Reiki Level I & II Student "Krystle's energy is absolutely amazing.  I'm very lucky to have been able to have Reiki sessions with her and also took my Reiki level 1 with her.  This has helped me lot.  I recommend her to anyone."  --Holly Ann Jennings, Reiki Level I Student "Krystle's reiki class was an amazing experience, and one that I will always keep close to my heart.
Krystle is a beautiful healer, with an incredible amount of wisdom to share. I left the class with a lot of peace in my heart. The reiki healing gave me the ability to heal and move forward with my life's plans, and to share reiki with others. Highly recommended."  -- Linda Szabo, Reiki Level I Student"Love, love love Krystle. I'm thankful I decided to do my Level I with Krystle. She has given me the confidence and knowledge to pursue Reiki after completion of the class.She is a person people are drawn to.Love her presence, love the way she teaches."  -- Joanne Gugin, Reiki Level I Student"Krystle was an amazing instructor. She has a passion to teach and she does it from a place of love and divine energy. The Reiki Level One class was engaging, hands on, and our group shared experiences that also aided all of us in growth, friendship and helping us attain a higher vibration.
I would highly recommend this class. I learned so much. " -- Nora Funk, Reiki Level I Student"I am so thankful for Krystle's kindness and patience.  She took the time to answer every question that every person had.  She radiates such a beautiful energy and I felt really safe and cared for with her."  -- Robyn Lloyd, Reiki Level I Student "The Reiki session I had with Krystle was heavenly and blissful. I was so relaxed, felt nurtured, nourished and safe. Overflowing with so much divine energy and love. Krystle's presence and energy are so very lovely. She's a remarkable healer and an inspiring teacher, one whom which I have personally learnt a lot from throughout our friendship. Her healing touch is gentle yet powerful and extremely effective. I feel grateful and honoured to know her, to learn from her and share in the healing energies. "  -- Christina Marie, Reiki Level I StudentREAD MORE AT www.goldenlotuscenter.ca