Ri5E: Celebrating Capilano's Tourism Community
Vancouver
Canada @ (CA)
Tel 2019-02-13
Categoria Events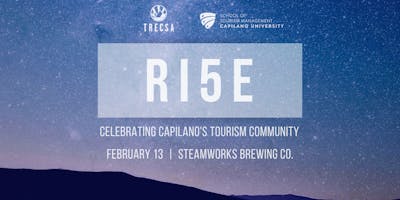 It's that time of year again. RiSE is back on February 13th.   On behalf of the Capilano Tourism & Outdoor Recreation Student Association (TRECSA) and the Capilano University School of Tourism Management, we would like to invite you to Ri5E, an evening celebration of Capilano's tourism community. Every year, RiSE celebrates the achievements and successes of Capilano University's tourism community and provides an exciting opportunity for our outstanding alumni and industry partners to connect and engage with our graduating class of tourism management students.   This year, join us as we celebrate a very special #CapU50 rendition of RISE. We are excited to celebrate 50 years of Capilano University as well as 5 years of RiSE.  #CapUTourism's amazing alumni, stellar students, fantastic faculty members, and illuminating industry partners are all invited for an exciting evening on Wednesday, February 13th, 2019 at Streamworks Brewing Company (375 Water St.
Vancouver, BC). Registration will begin at 5:30PM. For those looking to continue on with the celebrations, the official Ri5E afterparty will be at The Charles Bar (136 W. Cordova St. Vancouver, BC). Please note: Coat check will be provided Canapes will be served throughout the evening (Vegetarian options available) Each RiSE ticket will include 1 beverage, a cash bar will also be available Business casual attire is recommended NOTE: if you have any dietary restrictions, please register by Monday, February 11th, 2019 and email TRECSA with your request. Register ASAP for your spot as soon as possible, tickets are limited.  Email
[email protected]
 if you have any questions. We look forward to meeting at this year's Ri5E.