Edmonton
Canada @ (CA)
Tel 2019-03-02
Categoria Events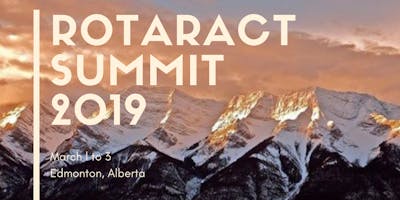 Hello Rotaractors of District 5360 and 5370. You are invited to the Rotaract Summit 2019, on the weekend of March 2nd in Edmonton, Alberta. This will be an opportunity for us all to come together to share ideas, brainstorm, celebrate successes and find solutions to challenges. The Summit itself is from 9am to 5pm on Saturday, March 2nd, with a social events on Friday night, dinner on Saturday night, and brunch and a service opportunity on Sunday. Come for as much of the Summit weekend as you are able. Connect: Keep up with conversation with other Summit participants by following the Facebook event: https://www.facebook.com/events/737986566573883/ Registration: Tickets are $15 and can be done on Eventbrite, please register by Sunday, February 24: https://www.eventbrite.com/e/rotaract-summit-2019-tickets-55391768270?ref=estw ***Please respond to this email with any dietary restrictions you have*** Your registration covers the cost of participation, swag bags, and all meals as noted in the schedule below: Schedule: Friday, March 1 - weather dependent.
We will send an email and post on Facebook on Thurs. Feb. 28 to confirm what we'll be doing: If it's warm, -10°C or above: appetizers and social event from 5:00pm to 7:00pm at the Cactus Club (11130 Jasper Ave, Edmonton, AB T5K 0L1) and afterwards we'll be skating at Victoria Park (12030 River Valley Rd NW, Edmonton, AB T5K 1L4). If it's cold, less than -10°C: appetizers and social event from 5:00pm to 7:00pm at Boston Pizza (KINGSWAY MALL, 11440 106 St NW, Edmonton, AB T5G 3E3) and afterwards we'll be bowling at Plaza Bowling Co. (10418 118 Ave NW, Edmonton, AB T5G 0P7). Saturday, March 2: Summit at the Orange Hub Room #440 (10045 156 St NW, Edmonton, AB T5P 2P7). Registration opens at 9:00am and the Summit runs from 9:30am until 5:00pm and includes breakfast and lunch.
The dress code is casual. Dinner at 7:00pm at King's Hot Pot and KTV (15041 Stony Plain Rd, Edmonton, AB T5P 4W1). Up to $20 of your meal will be covered, except for alcohol. Drinks, etc. at Central Social Hall beginning around 9:30pm to 10:00pm. Food and drinks will not be covered. Sunday, March 3: Brunch at Ricky's (11431 Kingsway NW, Edmonton, AB T5G 3E8) at 10:00am, up to $15 of your meal will be covered. Service opportunity from 1:00pm to 4:00pm at the Edmonton Food Bank (11508 120 St, Edmonton, AB T5G 2Y2) ***Again, please respond to this email with any dietary restrictions you have*** Who Are You? One of our first sessions of the Summit will give each club 5 minutes to introduce themselves. Prepare speaking notes, a powerpoint, just improvise, or whatever you desire, it's up to you how your club will be introduced.
Celebrate Successes and Looking Ahead In another session, each club will have the opportunity to share the events of the past year: what did you get up to? Have any successes to brag about? We want to celebrate with you. Did you learn anything new you would like to share? Then, they can speak on what they have planned for next year. Fundraisers? Service projects? Trips? We want to know. Group Rotaract Project (Dragon's Den Style. ) Have you ever wanted to do a multi-club Rotaract project? Now is your chance. Prepare a short, 5 min or less presentation on the project you're proposing, and we'll vote as a group which we'll take on together. Don't forget to include an approximate timeline (6 months? 2 years?) and what specific actions you expect would be required (eg.
knit 100 blankets, persuade local teachers to work with us, find a place to store items, get sponsorship for building supplies, etc.). Before the Summit, send your ideas to Rain Bossert,
[email protected]
, with a one or two sentence summary of your idea.   Rotary Panel Each Rotaract Club is welcome to invite one (singular. ) Rotarian from their sponsor club(s) to sit on our Rotary Panel. The session will be facilitated, and conducted in a "question and answer" format, with Rotaractors asking questions of the Rotarians. The goal is to facilitate better understanding and connection and open communication within our Rotary family. Rotarians are invited to stay with us for lunch afterwards. Please ask your Rotary guest to arrive a few minutes before noon, as the session will run from 12:00pm to 1:00pm and lunch will be from 1:00pm to 2:00pm.
The Good, The Bad and the Ugly This was a previous crowd favourite: a facilitated group discussion on what challenges your club has faced, with the opportunity to come up with solutions and strategies together. Membership successes and challenges will be given special attention. Accommodations The most affordable paid accommodations we found were with HI Edmonton: https://hihostels.ca/en/destinations/alberta/hi-edmonton Rotaractors must register for their own accomodations. Alternatively, some Rotaractors living in the Edmonton area would be happy to host those coming from out of town. Contact Kathe Debenham
[email protected]
if you would like to stay with a local Rotaractor, or if you would be interested in hosting a Rotaractor from out of town. Hopefully we've covered it all. Don't hesitate to reply with any questions or comments you have, and don't forget to reply with any dietary restrictions. Cheers. The Rotaract Summit Planning Committee