Salesforce Admin 201 Certification Training in Brantford, ON
Brantford
Canada @ (CA)
Tel 2019-11-26
Categoria Events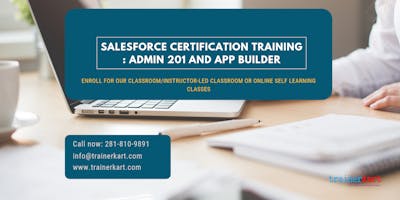 Key Features: 32 hours of Interactive Classroom training 100% Money Back Guarantee 20 Hrs Real time Projects 25 Hrs Assignments 24/7 customer support About Salesforce Certification Training Trainerkart's Salesforce ADM 201 Training will introduce the participants to understand the basic concepts related to Administration. This Salesforce ADM 201 Training will help the students prepare for ADM201 certification Course Objectives After the completion of the Salesforce Administration course at Trainerkart, you will be able to: 1. Understand and identify different Salesforce building blocks 2. Understand the data model 3. Understand the security model 4. Understand the business process automation options 5. Understand the Sales Cloud and Service Cloud modules 6.
Understand the reports and dashboard 7. Understand Salesforce1, SalesforceA, Chatter and Social features We also provide training many project management courses under Cloud Computing and ERP.     Why Learn Salesforce Admin 201 Certification Training? Salesforce ADM 201 Training is the leader in Cloud Computing and there are several job opportunities in the market for different roles like Administrator, Functional Consultant, Designer and Architect. Salesforce ADM 201 Training is growing at a CAGR of 30% and clocking more than 5B USD per annum and expected to hit 20 B in the next 5-6 years. SFDC addresses all the aspects of the SMAC (Social Mobile Analytics and Cloud) and Internet of Things space. This Salesforce ADM 201 Training course serves as good base to get started with SFDC fundamentals.
SFDC is the first in the industry to be born on Cloud platform and has set the trend for the Digital Revolution today Who Should Apply? This course is best suited for: Experienced professionals who are looking to have an exciting career in the leading Cloud Computing platform Functional consultants who are looking to switch to Salesforce Fresher's who are looking to get a jump start to their careers in Cloud computing Siebel and other CRM products Salesforce Admin 201 Certification Training - Course Agenda 1. Introduction to Cloud Computing and SFDC Learning Objectives – In this module, you will be able to understand Cloud Computing concepts, SFDC building blocks Apps, Tabs and other elements, Business and IT Benefits of SFDC, Different SFDC products and Editions, Development environment & Sandboxes.
Topics – History of computing, Service and Deployment models in the Cloud, Market situation, Benefits of the SFDC Cloud Platform, Products and Editions, Types of sandboxes and their features 2. Building blocks of Force.com platform and Introduction to the student master app Learning Objectives – In this module, you will learn to build a custom app on Force.com platform, Understand Company profile and License types, User licenses available in the Developer Org, Page Layout, Search Layouts, Object Limits and you will also learn about the App we are going to build during this course Topics – How to sign-up for a free development environment, Look Company profile, User licenses and License types, Introduction to Student Master App, Creating your app, Key object and tab, Look at Page Layout and Search Layout for that object, Look at some standard objects like Accounts and Opportunities and Contacts 3.
SFDC Data model, Objects, Relationships and Fields Learning Objectives – In this module, you will be able to understand Standard and Custom Objects, Standard and Custom Fields and Datatypes, various Relationships, Lookup Filters, schema builder and explain the implications of deleting fields. Topics – Create Custom Objects and understand various properties in the Object definition section, Customize standard objects. What is possible and what is not possible, Create Master Detail Relationship between two objects, Create a lookup relationship between two objects, Create a many-to-many relationship between objects, Create lookup filters to restrict number of records in a relationship, View the objects created in Schema Builder, Delete few custom field and understand the implications, Create different field types in the student app 4.
SFDC Security Model Org-Level General administrative features and Object Level features Learning Objectives – In this module, you will be able to understand different levels Org-level, Object level, Record level, Org-level – Profile and Permission sets Login hours, network level and Object Level – Profile and Permission sets Topics – Introduction to Security – Analogy, Introducing Org-level security settings with profiles and permission sets, Introducing Object level security settings with profiles and permission sets, Difference between profiles and permission sets 5. SFDC Security Model Object, Record and Field Level features Learning Objectives – In this module, you will learn about Organization wide defaults, Role and Role Hierarchy, Criteria based sharing, Manual Sharing and Apex sharing reasons. Topics – Introduction to OWD, Introduction to Role and Role Hierarchy, Introduction to record sharing – Criteria based and Manual 6. Business Logic Learning Objectives – In this module, you will learn to create, delete, and customize record types for custom and standard objects, given a scenario, determine the appropriate record types and business processes for custom and standard objects, describe when to use and how to create formula fields, Enforcing Data quality and Integrity and Validation rules. Topics – Need for different business processes for different departments and leveraging record types and page layout, Need for formula fields and different types of functions, Different ways to enforce data quality, perform basic field level validations 7. Business Process Automation Learning Objectives – In this module, you will learn when workflow rules are evaluated, the capabilities of workflow rules and actions, given a scenario, identify the appropriate workflow solution. You will also learn about the capabilities and use cases for the approval process and Introduction to Lightning Process builder. Topics – Workflow features and options, Approval features and options, Limitations and Considerations for using workflow and approvals, Introducing Process builder, Compare Workflow, Approval and Process Builder features 8. Introduction to Sales Cloud Learning Objectives – In this module, you will understand the different sales processes in any organization, Sales Productivity Features, Lead management, products and price books, campaign management. Topics – Capture Leads from website and Lead assignment rules, Customize Lead, create queue, Key sales objects Accounts, Contacts, Opportunity, Opportunity teams and Account teams, Using Chatter for collaboration in the sales process across teams, Reports -Standard and Custom reports 9. Introduction to Service Cloud Learning Objectives – In this module, you will learn about the capabilities of case management, given a scenario, identify how to automate case management. You will also learn about the capabilities of solution management, the basic capabilities of Communities, the capabilities of the Community application, such as Ideas and Answers and the capabilities of Sales force Knowledge. Topics – Capture cases from website and email, Customize case process, Solutions, Communities and Salesforce Knowledge 10. Data handling and processing Learning Objectives – In this module, you will learn about the considerations when importing, updating, transferring, and mass deleting data, given a scenario, identify tools and use cases for managing data. You will also learn about the capabilities and implications of the data validation tools and the different ways to back up data Topics – Data Handling and Processing Overview, Exporting data and Regular Backup, Importance of record IDs, Install Apex Data loader, Use the Import Wizard and Data Loader and compare the features, Update , Upsert operations, Delete and Hard Delete records, Transfer record ownership 11. Reports and Dashboards Learning Objectives – In this module, you will learn about the options available when creating or customizing a report, the impact of the sharing model on reports, the options available when creating and modifying dashboards and the capabilities of custom report types. Topics – Execute a report with and without modifications, Create a simple tabular report, Summary and matrix report, Add a chart and few other features like highlighting , Create a custom report type and store in a folder, User filters in reports, Create a simple dashboard 12. Salesforce 1, Lightning App Builder, Salesforce A, Outlook Learning Objectives – In this module you will learn about the capabilities of Salesforce1 and Salesforce and the installation and synchronization options of Salesforce for Outlook. Topics – Customizable parts of the SF1 app, security and customisable settings, Navigation menu, Compact layouts and Mobile cards, Basic admin activities on Salesforce A, Outlook and SF synch up 13. Activity Management, AppExchange, Content and folder management Learning Objectives – In this module, you will be able to identify use cases for AppExchange applications, Describe the capabilities of Salesforce Content, describe how folders can be used to organize and secure communication templates, dashboards, reports, and documents and describe the capabilities of activity management. Topics – Activity management – Tasks, Events and Open activities, Creating and tracking tasks and events, Folders and Document templates and AppExchange. 14. Chatter, Global action and Publisher Layouts Learning Objectives – In this module, you will learn about the Global action and publisher layouts and the features of Chatter. Topics – Chatter groups, feeds, people, Files, Follow records, people, groups, Topics and Files, Global action types-Create, Log a call, Custom VF page, Custom canvas, Publisher layout, Global an Object specific actions. Why Trainerkart Learning Solution? Trainerkart's training is the best and value for time & money invested. We stand out because our customers Get trained at the best price compared to other training providers. Get trained by the best trainer in the industry. Get accesses to course specific learning videos. Get 100% Money back guarantee*. Training Fee: $2399 Early Bird: Booking at least one month prior to the class start date Training Venue: Venue will be confirmed to the classroom participants one week prior to the workshop start date and online participants will get the session attendance link before 4- 5 days of the training start date. Venue is finalized one week prior to the start date so that we can accommodate last minute rescheduling from the participants and we do not incur additional cost for rescheduling or cancellation. For more details please contact at Email:
[email protected]
For group discount please contact us by email, chat. or Click here    
Brantford
County of Canada @