Say It Like You Mean It! Keys to Effectively Communicate with Yourself and Others
Edmonton
Canada @ (CA)
Tel 2019-09-05
Categoria Events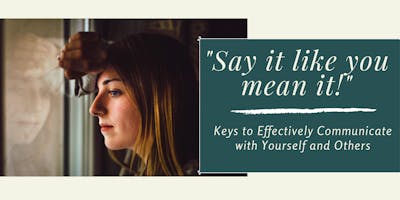 How do you communicate with yourself and others? Do you find yourself judging and attacking others when you're angry? Or talking down to yourself when you feel disappointment? Join me in this conversation about effective communication where we will explore how to identify true feelings vs masked feelings (which can put us in a state of victimhood).  Let's talk about the struggles of keeping our "cool" in times of frustration and anger.  Learn how to remain grounded when everything around us is crashing down. Find ways to actively listen to what others are trying to tell us without attaching our own "story" to it.  This evening will be an opportunity to share our experiences, if you choose, and learn from other women.  It is through the power of sisterhood that we can push through the tough times while feeling loved and supported.  I will also be sharing strategies that will help you effectively communicate with yourself and others so you no longer feel diminished or a victim.  DATE: Thursday, September 5 from 6:30-8:30pm INVESTMENT:: $20** in advance / $25** cash or e-transfer at the door (to
[email protected]
)  **Price includes a signature drink from Caffe Sole.
PLEASE NOTE: NO REFUNDS. However tickets are transferable, just send an email to
[email protected]
trees... no need to print your ticket, we will have a registration list at the door.  VENUE:  CAFFE SOLE, 9911 72 Ave NW, Edmonton, AB COFFEES, TEAS, DESSERTS and LIMITED SIGNATURE SANDWICH MENU   About the Presenter Annabel Nava is a motivational speaker and workshop facilitator dedicated to the empowerment of entrepreneurs, professionals, and students through personal development. Her goal is to provide them the necessary tools to be personally and professionally successful. She has trained with world renowned coaches in transformational training for over 4 years. Before living her true purpose of empowering others, she had a successful, award-winning broadcast media career working at FOX Broadcasting and FOX Sports Graphics, and co-owned several businesses with her husband in Los Angeles, California.
She has served the community as past board member and advisory board member of the National Latina Business Women Association – Los Angeles Chapter (NLBWA-LA) and as an Alumni Ambassador for the University of Southern California Annenberg School for Communications and Journalism. She now lives in Edmonton with her husband, teenage son and daughter.  HAVE QUESTIONS?? Please contact Annabel Nava directly at (562) 552-4051 or 
[email protected]