Soirée démo Technovation Montréal - 5ème édition
Saint-Lambert
Canada @ (CA)
Tel 2019-05-08
Categoria Events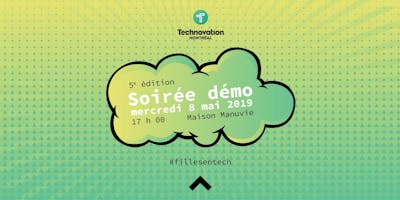 Technovation Montréal vous invite à assister aux pitchs des équipes de la cohorte 2019. Créer leur projet d'affaires en développant une application mobile qui répond à un besoin de leur communauté, voilà le défi qu'ont relevé les participantes de la 5e édition du programme Technovation Montréal. Après six mois de travail acharné, les équipes montréalaises sont maintenant prêtes à présenter leur projet d'application mobile devant jury. Venez encourager ces jeunes entrepreneures techno. Merci à nos commanditaires GSoft, Ubisoft Montréal, Ubisoft Éducation, EY Campus Montréal et nos partenaires Zenika, Rogers, Shopify, IBM Canada pour leur contribution et leur soutien continuel au programme et les mentors pour leur engagement et leur aide extraordinaire .
// Horaire 17 h 00 - Ouverture des portes  17 h 30 - Mot de bienvenue 17 h 45 - Pitchs  19 h 30 - Pause + délibération du jury 19 h 50 - Annonce des équipes lauréates 20 h 30 - Fin de la soirée ***Si vous ne pouvez assister, mais aimeriez tout de même soutenir nos activités nous vous invitons à faire un don.  - Technovation Montreal invites you to attend the pitchs of our 2019 teams.  The Challenge: to create a mobile app addressing a need in their community. After six months of (very) intense work, the Technovation Montréal teams are now ready to pitch their app and business plan to the jury. Come celebrate the outstanding work of these young entrepreneurs.  A huge thanks to GSoft, Ubisoft Montréal, Ubisoft Éducation, EY Campus Montreal and our partnerships Zenika, Rogers, Shopify , IBM Canada for their continuous support, and the mentors for their commitment and tremendous help.
 // Schedule 5:00 pm - Doors open  5:30 pm - Introduction  5:45 pm - Pitch & Demos  7:30 pm - Pause + Jury Selection 7:50 pm - Announcement of winning teams 8:30 pm - End of the event ***If you can't make it but still would like to contribute, you can make a donation to support our activities. Thank you so much.