Soul Button at City At Night : Sahra
Ottawa
Canada @ (CA)
Tel 2019-03-29
Categoria Events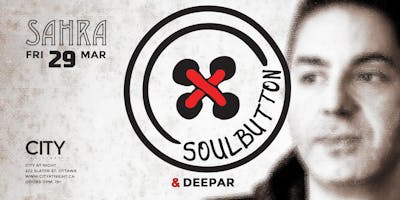 Friday March 29th, Sahra returns at City At Night, featuring Soul Button. Sahra (Arabic: سهرة) refers to an evening party where people gather, mingle and dance. The term is also a variant of the feminine name Sahara which is of Arabic origin and means 'desert'. Sahra explores melancholic, melodic, exotic and emotional nuances of deep house music through a limitless musical expression by Deepar and guests. Join us for an evening where your senses will be treated with deep vibes that will transport your heart to a melodic world. ARTISTS: SOUL BUTTON (Berlin, Steyoyoke) https://soundcloud.com/soul-button https://www.facebook.com/soulbutton Since Steyoyoke's conception in 2012, its owner and creator, Soul Button, has worked tirelessly breathing life into the label.
His exceptional producing skills make him an aural innovator, empowering his work with a unique edge and thus stamping it with a distinguishable trademark sound. The close relationship with his fans and supporters is what helps feed his creative inspiration.With his array of projects, dreamy effectual podcasts, cutting edge radio shows and his podcast series Inner Symphony, which became a record label in April 2017, Soul Button has substantially increased his following over the last few years. Free from conformity and expectation, it's safe to say that both his music and persona go against the grain. Soul Button's music is honest, genuine, touches the soul and fits perfectly in its own genre, Ethereal Techno. His international exposure and success over the last few years affirms his place in current electronic music scene.'Shadows' was his first official EP released back in 2012.
'Play Again', 'Swift Minds' and 'Wraith' were three monumental EPs that followed. In May 2017, his new work, 'Master Of My Fate', gained much recognition from numerous high profile artists and quickly climbing the Beatport Deep House chart. After a number of top notch remixes, he kicked off 2018 with an extraordinary EP, 'Reverie'. The single 'Paramour' from that EP is still the bestseller of his career. 'Pensées' which was released in August 2017 on his newest label, Inner Symphony, has had the most success so far. His most recent release for the label is his EP, 'Ojas'. With his sights set well into the future, Soul Button is focused on the continued growth and development of his labels. Multiple appearances in America, Europe and the Middle East already booked, 2018 is already shaping up nicely.
DEEPAR (Sahra) https://soundcloud.com/deepar https://www.facebook.com/officialdeepar ADMISSION: Online link: https://cityatnightmar29.eventbrite.ca Release 1 - $17.00 (until Feb.12, or sold out)Release 2 - $20.00 (until Mar.13, or sold out)Release 3 - $23.00 (until Mar.29, or sold out) Door: A limited quantity of tickets may be available at the door, subject to capacity. BOTTLE SERVICE: Menu: www.cityatnight.ca/menu Contact: 6132412489 - Reservations will only be guaranteed until 12am. - Standing/Bench table reservations: 1 bottle minimum - Booth by DJ reservation: 2 bottles minimum - Booth by entrance reservation: 2 bottle minimum OTHER: Doors at 11pm 19+ (ID Required) ATM available Casual dresscode Glow/light sticks are not permitted.
LOCATION: City At Night 222 Slater St. Ottawa ON www.cityatnight.ca 6132412489