Soundbath Sunday with Jesse Buck - Ottawa
Ottawa
Canada @ (CA)
Tel 2019-01-13
Categoria Events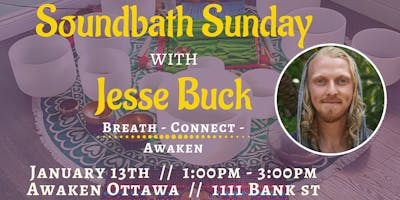 Join Jesse Buck for a restful and rejuvenating Afternoon as he shares a 432hz Crystal Quartz Singing Bowl Sound Journey including guided meditations, breath work and visualizations. With an array instruments the healing tones will allow the thoughts to be melted away and the clarity of your heart to shine at the brand new "Awaken Ottawa" Venue. Experience inner harmony as he plays Crystal Singing Bowls, Tibetan Bowls, Gongs, Chimes and a few other goodies to bring healing frequency to your physical, emotional and energetic bodies. Providing you with an afternoon to rest, relax and reset the nervous system as we deepen our connection to the present moment. The bowls are tuned to the Sacred Frequency of 432 hz - "the harmonic intonation of nature to expand your sense of peace and tune you into the knowledge of the universe." More about 432hz HERE -- https://attunedvibrations.com/432hz-healing/ *** BE SURE TO BRING A YOGA MAT, BLANKETS OR ANYTHING TO BE COMFORTABLE *** -- Feel free to email Jesse for any questions -- **
[email protected]
---- Exchange - Advanced - $20 Door - $25 ** Please bring a yoga mat, blankets, crystals or anything you would like to bring you comfort* ----- Jesse will also be offering a Chocolate Dance Celebration on the Saturday night Jan 12th,  7 - 12 at the same venue.
Link --- https://www.facebook.com/events/354027205161803/ >>>>> What is a Soundbath? https://theyogahub.ie/what-is-a-sound-bath/ " As the name suggests, a Sound Bath is an immersion in beautiful sounds and vibrations that are healing for your body, mind and spirit. A Sound Bath is a deeply relaxing, meditative experience which can take you on a journey of deep relaxation, healing and self-discovery. Everything in the Universe, including our body, is composed of vibrations. Every organ and every cell in our body vibrates at a particular frequency. Sound and vibration travels up to five times more effectively through water. As the human body is made up of over 70% water we can understand that sound and vibration can affect us at a cellular level.
During a Soundbath you will experience deep relaxation and a profound sense of peace and well-being. The healing frequencies and vibrations will wash away all your stress, tension, and cares. All you have to do is lie there and allow the healing sounds and vibrations to wash over you." More about 432hz healing here :: https://attunedvibrations.com/432hz-healing/ Who is Jesse Buck .... Jesse Buck was born and raised in Ottawa and moved to Toronto 6 years ago to begin his healing journey of self discovery and alignment. He began to study Yoga, Meditation and Vibrational Medicine, while connecting to the wide varieties of healing communities in Toronto. Over the last 6 years he has completed 2 YTT, 2 Sound Healing Trainings, Reiki Lv 1/2 and many other trainings that support his work.
He workes to bring the light of love to all his Cacao Ceremonies, Ecstatic Dances and Meditations. He also works in the Toronto School system with the Youth Wellness Network, empowering youth and bringing meditation into the classroom. To learn more about Jesse and his Chocolate Groove events you can follow him on all social media platforms :: www.jessebuck.ca Instagram :: @j_buckasana Personal Facebook Profile :: https://www.facebook.com/jessebuckmovement1 Personal Facebook Page :: https://www.facebook.com/jessebuckmovement/ Chocolate Groove - Dance Celebrations Page :: https://www.facebook.com/chocolategroovecelebrations/