SRC Québec RSC: «Événement: La science et la société en cette ère du pluralisme» | Science and Society in an era of pluralism
Montreal
Canada @ (CA)
Tel 2019-04-18
Categoria Events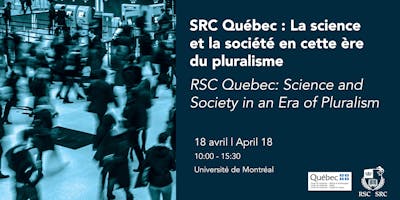 SRC QUEBEC Présentation des nouveaux membres de la SRC et de son Collège &« Événement : La science et la société en cette ère du pluralisme » Le 18 avril , 10h00-15h30 suivi d'un vin d'honneurM415, Université de Montréal (sous la tour) Le président de la Société royale du Canada, les présidents de ses trois académies et la présidente du Collège de nouveaux chercheurs ont le plaisir de vous inviter à la Présentation des nouveaux membres du chapitre Québec de la SRC et du Collège ainsi que des lauréats des prix de la SRC, le jeudi 18 avril 2019, à 10h00, à l'Université de Montréal. Après la présentation et le lunch, il y aura une discussion sur les efforts des chercheurs visant à resserrer les liens entre la science et la société.
Cette dimension vient s'ajouter aux travaux déjà menés par la SRC et les Académies du G7 avec ses déclarations 2018 sur l'Arctique et l'Avenir numérique en tant que défis scientifiques de première importance. Les intervenants proviennent de plusieurs champs disciplinaires et ils ont en commun de vouloir mettre en interrelation la science et la société.PROGRAMME RSC QUEBEC   Presentation of RSC new Fellows and College Members&Science and Society in an era of pluralism April 18th , 10 :00am-15 :30pm followed by a receptionM415, University of Montreal (under the tower) The President of the Royal Society of Canada, the Presidents of the three academies and the President of the College of New Scholars are delighted to invite you to the Presentation of New RSC Fellows, College Members and Awards Winners from the RSC Quebec, that will take place at the University of Montreal on Thursday April 18th, 2019, at 10 :00am.
Following the presentation and the lunch, a discussion about researchers' efforts to actively deepen the links between science and society will be launched. This dimension builds on the work undertaken by the RSC and the G7 Academies with their 2018 Statements about the Arctic and Our Digital Future as major scientific challenges. Speakers come from a variety of disciplinary fields and share a common desire to bring science and society together.