Sutton Family Reunion 2019 - Detroit RSVP
Windsor
Canada @ (CA)
Tel 2019-07-11
Categoria Events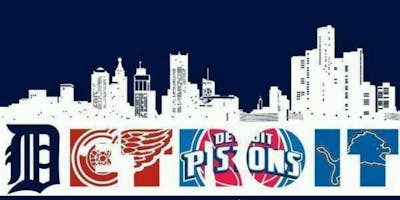 2019 Sutton Family Reunion – DetroitLEGACYThe 2019 Sutton Family Reunion Planning Committee is so excited to Welcome You To The D. THURSDAY, JULY 11TH, 2019 – SUNDAY, JULY 14TH, 2019HOTEL ACCOMMODATIONS:Greektown Hotel1200 Saint Antoine StreetDetroit, Mi. 48226(313) 223-2999Self Parking and Valet Services Available @ No Extra ChargeReunion Package includes double rooms at $155.00Group Name: SUTTON FAMILY REUNION 2019REUNION DUES:Adult (18+) $150 eachChild (11 - 17) $130 each(4 – 10) $100(Dues are to be paid to the order of Sutton Family Reunion 2019 and submitted to SFR 2019 Planning Committee Treasurer Ivana Blakely at mailing address 22627 Leewin St. Detroit, Mi. 48219. PLEASE RSVP ASAP.  THE SOONER WE KNOW YOU ARE COMING, THE BETTER THE REUNION CAN BE.
. . EARLY REGISTRATION LOCKS IN DUE RATE.  LATE REGISTRATION IS SUBJECT TO LATE REGISTRATION FEE. REGISTRATION DEADLINE IS FRIDAY, MARCH 15TH, 2019~REUNION ITINERARY ~(All times are in Eastern Standard Time)Thursday July 11th, 2019: SUTTON FAMILY BI-ANNUAL GOLF TOURNAMENT*Times and details to be announced upon finalization*HOTEL CHECK-IN4pMEET & GREET6p –
[email protected]
Hotel 5th Floor Salon DWe want to give you the real Spirit of Detroit. We will be wearing gear displaying our local Detroit sports teams and Alma Mater colleges and universities. We encourage all family arriving to participate and wear gear from your favorite college or team. FELLOWSHIPPING WITH THE FAMILY8p –
[email protected]
Punch Bowl SocialAfter a day of traveling and/or golfing, we'll head just a couple blocks over and knock down some pins at one of Detroit's largest bowling alleys.
There's an arcade and karaoke too. We'll pick our teams, and enjoy celebrating togetherness and the kickoff of our 2019 Sutton Family Reunion. Friday July 12th, 2019:DAYTIME:You'll have your pick of the following activities ranging from 7a – 5p7a – 7:15aPEOPLE MOVER RIDE TO BREAKFASTMeet in Lobby @ 7a – Group Leaves @ 7:15ahttps://visitdetroit.com/profile/detroit-people-mover/7:45a – 10aBREAKFAST @
[email protected]
Millender Center10a – 2aMICHIGAN SCIENCE CENTERThe Michigan Science Center has Michigan's only Chrysler IMAX Dome Theatre; the Dassault Systèmes Planetarium; the DTE Energy Sparks Theater; the Chrysler Science Stage; a 8,700-square-foot (810 m2) Science Hall for traveling exhibits; hands-on exhibit galleries focusing on space, life and physical science; the United States Steel Fun Factory; an exhibit gallery just for pint-size scientists; and more.http://www.mi-sci.org/11a – 3pGUIDED TOUR OF THE CITYHop a seat on the bus and come take a guided journey through the historic districts of Detroit.
The tour will immerge you into key sites throughout the city that shaped the city as it was, as well as the sites that are shaping what it is to becoming today. There will be a stop at the Motown Museum where you will get the chance to tour the legendary studio house that birthed a genre and defined an era. Finally the tour will end at the Historical Charles H. Wright Museum of African American History, which you will get to tour and explore as well.https://www.motownmuseum.org/https://thewright.org/10a – 5pTHE DETROIT RIVERWALK CONSERVANCYAttractions along the east river front include parks, plazas, pavilions, pathways and open green space all connected by the absolutely gorgeous, ever popular RiverWalk. There are bikes and scooters for rent to explore the 3 ½ mile river side spanning Detroit's southeastern most border. http://detroitriverfront.org/riverfront10a – 5pQ-LINE TO CAMPUS MARTIUSCruise Woodward Ave via the new M-1 Rail Transit System between midtown and downtown to take the scenic route through the heart of Detroit's revitalization.
Explore the rising food and shopping district and top it off with a visit to the summer sands of Campus Martius. https://qlinedetroit.com/http://downtowndetroitparks.com/parks/Campus-MartiusEVENING6p – 8:30pSUTTON FAMILY LEGACY BANQUET
[email protected]
Hotel 5th Floor Ballroom ABCome donned in your finest African garments and celebrate the Sutton LEGACY Featured colors for banqut are eggplant, yellowish gold, & green. Family is encouraged to wear whatever color you would like.8:30p – 10pOPEN DANCE & FELLOWSHIPSaturday July 13th, 201910a – 5pPICNIC @ BELLE ISLE
[email protected]
Shed 96p – 8pSUTTON FAMILY BUSINESS
[email protected]
Hotel 5th Floor Salon F8p – 11pOPEN FELLOWSHIPSunday July 14th, 2019FAMILY CHURCH
[email protected]
Zion Chapel ChurchMID-DAY CHECKOUTFAREWELL LUNCH/DINNER Specific details for all planned events will be given during registration.