Tartan Turban Secret Readings #19
Toronto
Canada @ (CA)
Tel 2019-07-25
Categoria Events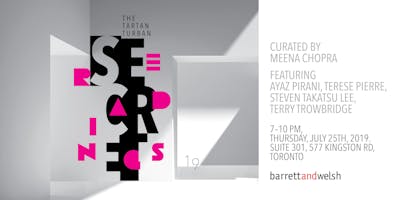 You are invited to the 19th session of The Tartan Turban Secret Readings curated by Meena Chopra at Barrett and Welsh on Thursday, July 25th, 2019, from 7 pm to about 10 pm, featuring Ayaz Pirani, Terese Pierre, Steven Takatsu Lee and Terry Trowbridge. Meena Chopra is a visual artist and poet with an unbridled passion for words, space, colours and forms. She writes poetry in English and her native language Hindi and has authored three poetry collections and co-edited one anthology. SHE. The Restless Streak, her third collection, showcases both her poetry and art. Her poetry has been translated into German and Urdu and her art and poetry have been published in many magazines and literary journals. She has been recognized for her contribution to literature and art by the National Ethnic Press And Media Council of Canada in 2018 and by Dancing Damsels in 2019.
Her painting SHE. The Restless Streak won first prize in 2017 from Visual Arts Mississauga. She was a finalist for the 2019 MARTY'S award for literature. Meena is also a qualified artist educator and has been teaching art for the past 10 years. Her current passion is teaching art to special needs students. In India, she was an entrepreneur in advertising and marketing. Between 2007 and 2016, Meena published a leading Toronto-based South Asian entertainment weekly called StarBuzz and hosted and produced an ethnic radio musical show on 1320AM. Ayaz Pirani was born in Musoma, Tanzania. He grew up in Canada, where he studied Humanities in Toronto and Montreal, and studied Fine Arts at Vermont College. He spends time between Canada and California. His first book Happy You Are Here, ws published by The Word Works in 2016.
His second book, Kabir's Jacket Has a Thousand Pockets, is forthcoming from Mawenzi House in 2019. Terese Mason Pierre is a writer, editor and organizer. Her work has appeared in the Hart House Review, Bad Nudes, and Train: a poetry journal, among others. She is currently the poetry editor of Augur Magazine, a Canadian speculative and surrealism literature and art journal. Terese is also a co-host of Shab-e She'r Poetry Night, and a co-organizer of Slant Reading Series. Her first chapbook is forthcoming with Ansthruther Press. Terese lives and works in Toronto. Steven, known as Takatsu, is a multidisciplinary artist, author, and entrepreneur. In 2008, he pioneered the English cell phone novel and spearheaded online writing communities for thousands worldwide.
In 2014, his magical realist literary novel Espresso Love surpassed 1 million reads and 30,000 followers, winning the Watty's award with critical acclaim. His published works include cell phone novel Secondhand Memories, literary and art collection Of Forests and Clocks and Dreams, and poetry chapbook Kawatare (Anstruther Press). As a passionate advocate of diverse communities, he founded Inspiritus Press, Crossroads Literary Festival, Bring the Noise Street Poetry Tour, and other initiatives. Outside of writing, he works as a graphic, web and UI/UX designer with dabbles in apparel design, music production, visual art, and other forms. Terry Trowbridge is studying for his PhD in Socio-Legal Studies at York University. He has several chapbooks published by Grey Borders Books and his writing has appeared in over 60 journals and zines.
Lately, he acted in a dramatic reading of the play "In Conversation" by Diane Gordon; and he was a moot court judge for the Guelph-Humber International Moot Competition (R v Goldfinch) and the Lion's Cup Moot Competition (Frank v Canada). Terry is one of the organizers of the Art Bar Poetry Series in Toronto. For updated information and for author headshots, follow our Facebook group and Facebook event page.  ------ Open mic: Anyone attending is welcome to read or perform (if you are a musician) in our open mic sessions. If you are a writer or musician who would like to perform in the open mic session, we ask that you listen in to at least one session to get the flavour of the evening and join in on your next visit. To participate in TTSR #19 please contact Meena Chopra the evening's curator — beforehand as this will allow her to line up readers and manage the evening efficiently.  The ambience at our readings is intimate, extremely informal and very supportive. Readers are given 4 minutes in total including a brief introduction to themselves and their work which may be any form of creative writing (fiction/poetry/drama/screenplay) – or a work of reportage or creative non-fiction. This is not a lecture or motivational speaking series, so no academic or self-help works, please.
There are detailed open mic guidelines posted in our FB group. Open mic readers who have published works they would like to offer for sale are free to mention it on finishing their readings. ---- About The Tartan Turban Secret Readings: Barrett and Welsh hosts a (not so) "secret" reading series on its rather lovely open-air office rooftop deck while it's warm, and in its large open concept studio space in cooler weather. The Tartan Turban Secret Readings feature poetry, drama and prose readings that celebrate Canadian multicultural writing created by multicultural, minority and BIPOC writers. The idea is to provide a platform for minority writers who have very few such platforms while welcoming all writers who want to celebrate Canada's multiculturalism, diversity and indigenous heritage, and have talent to share. Curators change from reading to reading. If you would like to read or curate, contact Gavin Barrett or Mayank Bhatt who are co-curators for the series. Readings may eventually be collected in an anthology, so ideally everyone reads some unpublished work. The sessions are often photographed, filmed or streamed on FB/YouTube live. Please be aware that by attending this event, you agree to be photographed and/or filmed and give permission to use your likeness in promotional and/or marketing materials. ---- Seating: For those wishing to attend, please note that our indoor space can comfortably accommodate no more than 35 people (including our features).  Refreshments:  Barrett and Welsh does provide complimentary refreshments and light snacks, but in keeping with the community-centric spirit of the series, we encourage attendees to bring and/or share their own beverages and snacks (and to carry their own drinking cups/glasses as we avoid the use of disposables unless they are biodegradable. Filtered water is available to all. Entry: Please arrive before 7 and encourage your guests to do the same. if they arrive later, they may need to text one of us (contact info will be posted on the door) to let them in and we'll swing by in 10 min intervals (sorry. ) Accessibility: Barrett and Welsh's offices are at the top of an office building that was once a large townhouse, so there are a couple of steep flights of stairs to get in. If you (or any guests) have mobility challenges, please be aware that you may need a helping hand up the stairs, as there is no elevator. Please let us know if we can be of assistance. Want to receive updates on the next reading? Simply follow our FB group for updates on the next session and the link to the Eventbrite registration page for each reading. (we do ask that you register if you plan to attend). You can also sign up for our email list here. ----About Barrett and Welsh: Barrett and Welsh is a minority-led, creativity-powered, change-making ad agency that puts ideas first to make ideas last. A certified B-Corp, it has speciality practices in inclusion communications (mainly multicultural/minority and persons with disabilities) and urban sustainable development (mainly transit). About the series co-curators: Mayank Bhatt's first novel Belief was published in 2016 by MG Vassanji's Mawenzi House press. The novel explores youth radicalization and alienation, and the impact of terrorism on a family in the context of the failure of immigration and settlement framework in Canada. Mayank Bhatt immigrated to Toronto in 2008 from Mumbai (Bombay), where he worked as a journalist. His short stories have been published in TOK 5: Writing the New Toronto and Canadian Voices II. In Canada, he has worked as a security guard, as the Chief Administrative Officer of the Indo Canada Chamber of Commerce and as an organizer for the Festive of South Asian Literature and Art. He lives in Toronto with his family. Mayank co-curates the Tartan Turban Secret Readings with Gavin Barrett. Gavin's poetry has been published in Ranjit Hoskote's anthology of 14 contemporary Indian poets, Reasons for Belonging (Viking/Penguin India); the journal of Pen India; The Folio; The Independent; The Toronto Review of Contemporary Writing Abroad; and Poeisis – the journal of the Bombay Poetry Circle of which he was a founding member. He is the founder, host and series co-curator of the Tartan Turban Secret Readings, a Toronto reading series that focuses on giving emerging visible minority writers a stage. He sits on the Advisory Board of the Canadian Authors Association – Toronto and is an associate member of The League of Canadian Poets.