Guelph
Canada @ (CA)
Tel 2020-05-28
Categoria Events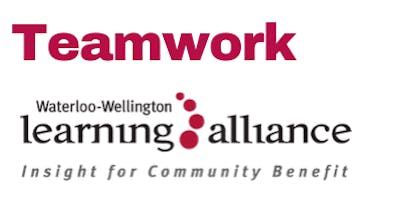 Teamwork makes the dream work. Whether you are an employee, volunteer, family member or friend, the ability of a group of people to work together is critical to achieving larger organizational or community goals. Teamwork requires people to share their individual skills and expertise and to leverage the skills and expertise of others to achieve something greater than what would be possible by a single individual. This course explores key characteristics of strong teams and provides practical advice on how to be an effective team member or leader. About the Facilitator: Christine Oldfield is the Executive Director of PIN - The People and Information Network (formerly the Volunteer Centre of Guelph Wellington). PIN provides connections and leadership in Guelph and Wellington County to support the development of individuals and organizations.
PIN helps people navigate essential community services, provide a hub for volunteer opportunities and engagement, and enable best practices and continuous learning for professionals in the non-profit sector. Christine is co-founder of the Executive Director Peer Group, coordinates the Conestoga College Senior Leadership and Management in the Not-For-Profit Sector program and has vast experience serving on Boards including her current roles with Immigrant Services Guelph Wellington and Inform Ontario.  Participant Limit: 20 Fee: $45 for members* or $59 for non-members. *members of Volunteer Action Centre of Waterloo Region and PIN - The People and Information Network Parking: Free - Street Parking Downtown Guelph, Paid - West Parkade, Baker Street Lot, MacDonell Lot.
See City of Guelph Parking resource and Guelph Transit resource.  A Note About Cheques: Cheques should be made payable to: PIN - The People and Information Network  RE: Waterloo-Wellington Learning Alliance, 55 Wyndham Street North, Suite 4A, Guelph, Ontario, N1H 7T8 Registration & Cancellation Policy: Fees for workshops, training opportunities, and events are due prior to or on the date of the event. The Waterloo-Wellington Learning Alliance reserves the right to request fees in advance. Participants who have registered for a workshop, training opportunity, or event with the Waterloo-Wellington Learning Alliance will be invoiced for the fee associated with the event if cancellation is not made at least 3 business days prior to the date and time of the event.
Cancellation fees will be waived if the participant can find and guarantee an alternate to attend. The Waterloo-Wellington Learning Alliance reserves the right to cancel a workshop. In the event of cancellation, full refunds will be issued to all paid registrants within one month.
Guelph
County of Canada @