Vancouver
Canada @ (CA)
Tel 2019-02-23
Categoria Events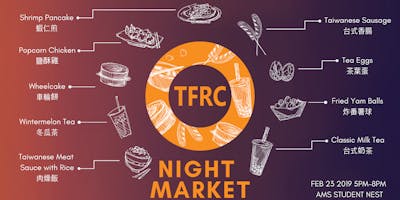 【This is Tai-wan. 】Do you ever miss the smell of delicious food on the street? Since winter markets and Richmond night markets are currently unavailable, and who doesn't miss going out with friends or lovers to experience that night market vibe? That is why TFRC is here to present to you, our Taiwanese Night market‼️Never tasted Taiwanese food? Well, this is your chance. Taiwan is known for their delicious cuisine, so if you're a foodie, this is your chance. Come on out for a taste of delicious Taiwanese food as well as the staple drinks you can get in Taiwan. What's better than warm food out on a cold day? RVSP Now. . So we can get a better idea on how much food to make to satisfy you all. **Disclaimer: If you have any specific allergies, please contact us for further information** === PAYMENT INFORMATION: IMPORTANT == A ticket to our night market is $20, tax included, and it is an absolute steal, coming with 4 food items, 1 drink, and 1 game.
Please purchase a free ticket through EventBrite, and EventBrite will send you a confirmation email with your order number. Then, please confirm your ticket purchase with payment through one of the following means: 1. In-Person Payment You can arrange a meeting with one of our execs on UBC campus to pay in person. Please text Victoria at 778-885-5297 or Lillian at 778-322-0132 to arrange a meet-up somewhere convenient for you. Please don't call because we're not always able to pick up the phone. 2. eTransfer You can also opt to eTransfer payments to
[email protected]
Make sure you leave your first and last name and order number in the comments so we know it's you.