❤ the Amici at Corso 32 > the "Don't Miss This" Supper of the Year
Edmonton
Canada @ (CA)
Tel 2019-02-17
Categoria Events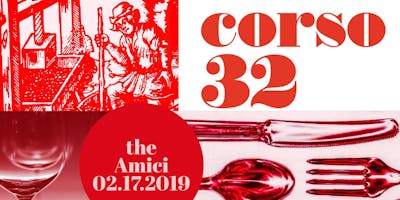 the Amici dell'Enotria at Corso 32 ❤ It's always an experience when Chef D "puts out" for the Amici. ❤ ❤❤   The Amici have an ongoing love affair with Chef Daniel ... an Amici perennial favourite. ❤ ❤ And we know he appreciates when we book out his, *oh so* tasty, lovely locales.  ❤❤❤❤❤❤❤❤❤❤❤❤❤❤❤❤❤❤❤❤❤❤❤❤❤❤❤ Unknown Fact:  Every time Chef D opens a new venue - the Amici are there first. The Amici curated the 1st wine dinners at Corso 32, Bar Bricco, and Uccellino. We have been back ever since and Chef D goes above & beyond to *Always* treat the Amici to a *Spectacular Time*. ❤❤❤❤❤❤❤❤❤❤❤❤❤❤❤❤❤❤❤❤❤❤❤❤❤❤❤ Please Note Seating Is Limited.
Sunday Feb 17th 2019 reception 6:00 service 6:30 Menu 1.  Stuzzichini :    Arancini 'Cacio e Pepe', Black Truffle Pecorino & Black Pepper, Speck Pink Lady Apple & Fresh Horseradish, Goat Ricotta Crostino Rosemary Oil & Maldon Sea Salt DeAngelis |  'Prato Grande' Chardonnay igt 2. Celery Root Salad Roasted Hazelnuts, Arugula & Parmigiano Reggiano DeAngelis  | Falerio doc 3. Ricotta Agnolotti Dandelion, Roasted Walnuts & Fulvio's Olive Oil Feudo Montoni | Catarratto 'Vigna del Masso' doc 4. Garganelli Oxtail Ragu Alla Romana & Pecorino Crema De Angelis  | 'Oro' Rosso Piceno Superiore doc 5. Maiale al Latte Whey Braised Pork Cheeks, Polenta & Shaved Brussel Sprout Gremolata Feudo Montoni  | Nero d'Avola 'Vigna Lagnusa' igtGulfi | Nero d'Avola 'Nerobaronj' igt 6.
dolce Almond Cake with Almond Gelato Feudo Montoni  | Passito Bianco igt wine selection for tonights supper curated by our own Vinitaly Italian Wine Expert Gurvinder Bhatia --Dinner & Drinks Amici Member: $160.00 per person (plus eventbrite service charge & processing fee) *Non-Members: $185.00 per person (plus eventbrite service charge & processing fee) only if Seats are available on and after Feb 12th Membership Need Membership for the 2018/19 season? Want to attend at the special Amici Price? (each membership allows two people to participate at the discounted price - so bring your mate, a partner, a friend or your neighbor) Annual Membership is only $40.00 (plus eventbrite service charge) and allows the Amici member 2 "front of the line" access, discounted tickets, for each Amici Wine Supper, thru the 2018-19 season.
The discount from one supper covers cost of membership. (Based on attendance of 2).  And attendance to all suppers is not mandatory. But if you do not get ot here and now the membership posting will be available through the season here: amicidellenotria_membership_2018to19.eventbrite.ca This is our fourth dinner of the 2018-19 season..... the season's list of events on the membership posting  amicidellenotria_membership_2018to19.eventbrite.ca Please Note: • No tickets will be available at the door. • All tickets must be purchased online before 9:30pm FEB 14th, 2018. • Limited Seating • Please if you suffer from an allergy inform us and we will contact the chef to determine if a substitution can be made. This is not always possible and the chef, in all cases, is the person to make that determination; we request you do not attempt to contact the restaurant yourself.
We are unable to make substitutions due to personal dislikes and hope you will understand. Just let us know when you purchase your ticket.  Or email us at
[email protected]
• Sorry, No Refunds. • Tickets ARE transferable but please we appreciate notification in advance of change. To ensure your complete enjoyment of this fine evening, please consider the services of a taxi to take you home safely. please purchase membership here https://amicidellenotria_membership_2018to19.eventbrite.ca for pics of past events... check out our our FaceBook Page www.facebook.com/AmiciDellEnotria & on our wordpress page https://amicidellenotria.wordpress.com/amicis-wine-events/