The Top 3 Things if You Want to Succeed [FREE Online Webinar for Women]
Windsor
Canada @ (CA)
Tel 2018-12-05
Categoria Events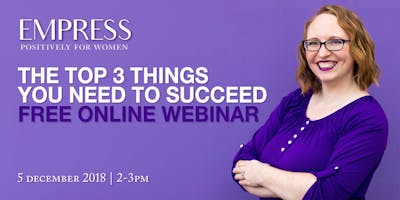 [Reminder: this is a FREE ONLINE webinar for women. Sign up now and you'll get some BONUS materials. ] How was your 2018? Are you where end-of-2017, New-Year's-Resolution you wanted you to be at this point?Or are you wondering where in the world 2018 went? If so, you're not alone. I've spent most of my life wondering where the time went... to be honest 2018 started much the same way. But lean in close and I'll let you in on a secret: I figured it out. I'm way way further than end-of-2017, New-Year's-Resolution me could have imagined. I ended 2017/began 2018 with a few resolutions in mind, though nothing very concrete. But to be totally honest, I totally rocked this year. I feel like a totally different person now than who I was at the end of 2017. And I feel amazing.
I don't say this to boast or rub it in or anything like that. The reason I tell you this is because I want to share it with you. I've read tons of books and done a bunch of research. I used all of that to create a system of positivity, self-care, and empowerment. And. It. Works. To put things into perspective: I came up with an idea on January 23. In just 9 months I've built a product, started a business (Empress LLC), and recorded 7 episodes of a soon-to-be-launched podcast. And that doesn't even take into account the personal growth that I have seen. Quite a few women have already beta-tested the system and they love it. Even life coaches are waiting for the official launch so they can share it with their clients. I'm not usually one to boast or anything, but I am confident you'll love what I've created because...
well, it's awesome. You might be starting to think that I'm just going to start selling you a bunch of stuff. I will try to sell you stuff, I'll say that up front. If you're wanting to take big steps and make a lot of progress, you're going to want what I am selling. But I legitimately want you to make progress.  The whole purpose of Empress is to empower women. So you'll be able to use the product for free to make sure you want to spend your money on it. I think you will. But as I said, the whole point of Empress is to empower women, so I'm hoping to give you a lot of great value that you can use immediately to start seeing changes in your life. So if you keep wondering where all the time went and/or you want to have more positivity and confidence in your life, register now.
I'll give you the tools you need to succeed. See you in the webinar. —Kayleen P.S. There are a limited number of spots available (don't want to crash any servers), so reserve your spot asap. P.P.S. If you're still trying to decide if this webinar is for you, just register. It's only an hour of your time and I promise you'll walk away with at least 1 tool that can change your life. P.P.P.S. Once you've registered, please check for an email from
[email protected]
If you don't receive it within about 30 min., check your spam. If you still haven't received a message, please email me directly and we'll sort things out.