Theotokos: New Visions of the Mother of God
Windsor
Canada @ (CA)
Tel 2018-12-07
Categoria Events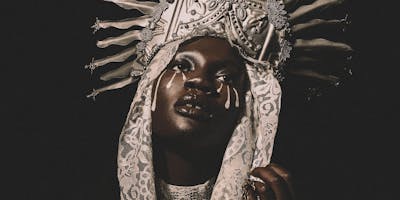 Lynch & Sons Fund for the Arts will present a multi-media group art exhibition entitled Theotokos: New Visions of the Mother of God. Organized by Detroit-based artist and curator, Cyrah Dardas, the exhibition will take place in The Schvitz Ballroom and showcase the work of contemporary Detroit artists exploring new interpretations of the Divine Feminine. Emphasizing new mediums, artists will engage this ancient concept from a modern, personal perspective. Participating artists include Xavier Cortez, Sydney James, Gisela Mcdaniel, Cyrah Dardas, Sabrina Nelson, Kamelya Omayma Youssef,  Zeinab Saab, Bree Gant, Nic Notion, Jamin Townsley, Tylonn Sawyer, Levon Kafafian, Gulley, Darius Baber, Ijania Cortez, BreAnn White, Olivia Guterson, Franchesca Lamarre, Darryl Terrell, Juan Martinez, and Imani Nichele An Artist Reception will take place Friday, December 7, with cocktails and appetizers beginning at 7pm.




Spoken word, dance, and musical performances will begin at 8pm. Featured performers will include Ari Mokdad, Jamaal May, Elizabeth Schmuhl, Caitlin Lynch, Jonathan Lasch, as well as members of Detroit Song Collective, St. Joseph's Latin Choir, and the Orthodox Choir of Detroit. Tylonn Sawyer's film short AMERICAN GODS: N/A will also be screened. The evening will highlight historic rituals and demonstrate the many ways in which humanity has venerated the feminine throughout time. A limited number of tickets are available here. Theotokos will be free and open to the public beginning with an opening exhibition Saturday, December 8, The Feast of the Immaculate Conception, 7pm-Midnight. Music will be provided by Tiny Jag and DJ Problematicblackhottie. Theotokos will run for three weeks with weekly gallery hours Sunday, December 9, 16, and 23, from 12-8pm, or by appointment.


Lynch and Sons Fund for the Arts, founded in 2016, endeavors to intervene in the lives of Michigan artists to encourage new work of lasting merit. Poets, writers, musicians, filmmakers, photographers, and fine artists are among those to be considered in awarding The Moveen Prizes: travel grants and month-long residencies on the Loophead peninsula of West Clare, Ireland, in the ancestral home of poet and writer, Thomas Lynch. The Fund is a 501(c)3 organization. Cyrah Dardas is a multimedia artist, art educator, and independent curator dedicated to ensuring the representation of Detroit native, female, queer, nonbinary, and people of color in the Arts. Open since 1930, The Schvitz is the only historic bathhouse left in Detroit. A storied landmark and cultural institution, it has been revitalized by new ownership and has reemerged as a hub for local artists and musicians.


Participating sponsors include Two James Distillery, Martell Cognac, Pabst Blue Ribbon, Motor City Wine, and 82 OAK.